Hawkeye Fan Shop — A Black & Gold Store | 24 Hawkeyes to Watch 2016-17 | Football Game Notes
By DARREN MILLER
hawkeyesports.com
IOWA CITY, Iowa — Jay Scheel made his first collegiate pass reception Saturday, Lucas LeGrand made his first collegiate start.
 
Scheel knew he would be on the field as soon as the wide receiver was injury-free, but for LeGrand, an injury to starting center James Daniels is what accelerated him to seeing action with the first unit.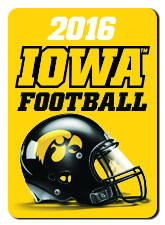 Both contributed to a Hawkeye offense that racked up a season-high 435 yards against Iowa State: Scheel caught one pass for 12 yards and LeGrand fit right in with fellow offensive line starters Cole Croston (left tackle), Boone Myers (left guard), Sean Welsh (right guard), and Ike Boettger (right tackle).
 
"It felt pretty good to finally get (my first reception) in the books. It was a long time coming," said Scheel, a redshirt sophomore. "I wasn't nervous, I was ready to go out and play."
 
Scheel was sore following Iowa's 42-3 victory over the Cyclones in the Iowa Corn Cy-Hawk Series…but it was a good kind of sore. The sore you get when you run pass routes, block, and are tackled by an opponent. It is much better than the sore of rehabilitating an injury.
 
In fact, Scheel was itching to see the field during Iowa's season-opening 45-21 win over Miami (Ohio) on Sept. 3. But after talking things over with the team's athletic training staff, Scheel accepted that he would be grounded for seven more days.  
 
"I wanted to play, but I knew before the game I wasn't going to," Scheel said.
 
Scheel was a two-time all-state selection at Union High School in LaPorte City, Iowa, where he played quarterback and wide receiver. As a sophomore in 2011, he quarterbacked Union to a state championship over a Decorah team led by current Hawkeye middle linebacker, Josey Jewell.
 
In both games this season, the Hawkeye offense has surpassed 40 points and 400 yards. They have kept opposing defenses guessing by passing for 429 yards and running for 410.
 
"We have been balanced, running the ball, passing the ball, and blocking well," LeGrand said. "We have been watching a lot of tape on the teams we are playing and that preparation has helped."
 
They have also played with few mistakes. In two games, the Hawkeyes have been whistled for eight penalties, seven fewer than their opponents. LeGrand chuckles while thinking back to one penalty in particular. The Hawkeyes were called for a false start…because the center (LeGrand) didn't snap the ball.
 
"False start. Everyone but the center," referee Mike Defee announced to a sold-out Kinnick Stadium crowd of 70,585.
 
"It was a mental mistake and it shouldn't happen," LeGrand said. "(Offensive line coach) Brian (Ferentz) gave me some grief about that Sunday during the film — we watched it over a few times. It's over now, so I have to get better and not screw that up again."  
 
Like Scheel, LeGrand is a home-grown Hawkeye. He was named first-team all-state as a senior, capping three outstanding seasons as a starting offensive and defensive lineman for Dubuque Senior.
 
Last Tuesday at this time, LeGrand wasn't sure how much he would play against the rival Cyclones.
 
"There are 19 (offensive linemen) in the room and coach Brian Ferentz tells us we have to be ready to play at any time," LeGrand said. "One bad snap and somebody has to go in. We all prepare like we're going to play and we're going to have to play."
 
LeGrand is scheduled to start again Saturday against Football Championship Subdivision juggernaut North Dakota State. The game will kick off at 11:01 a.m. (CT) and will be televised by ESPN2. A limited number of tickets remain.