Hawkeye Fan Shop — A Black & Gold Store | Hawkeyes in the NFL | 24 Hawkeyes to Watch | Purchase Single-Game Tickets
 
IOWA CITY, Iowa — Intensity and communication are two areas University of Iowa football defensive coordinator Phil Parker identified as improvement from game one to game two from the Hawkeye defense.
 
"Our guys are practicing better right now, but we have a long ways to go," said Parker. "We have a good North Dakota State team coming in here on Saturday. We have to be ready for the challenge."
 
North Dakota State comes into Saturday's game with a 2-0 record, winning both contests in overtime at home. The Bison put up 50 points in their win over Eastern Washington (50-44) and Parker has stressed to players how crucial a solid week of preparation needs to be.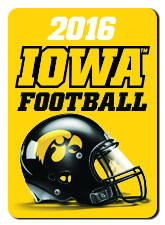 "They're tough; they like to run the ball like we do," Parker said. "They run a lot of power gaps schemes and then they like to get the ball outside. They are disciplined, well-coached, and hard-nosed guys who will come after you."
 
North Dakota State quarterback Easton Stick, who is 10-0 as a starter, will face a Hawkeye defense who has collected four takeaways through two games. Parker said having experienced guys on defense helps in creating turnovers, but letting the play come to them is key.
 
"Our guys need to play the play and if it comes to them and they get a chance to get a takeaway, then we want to get the ball back for our offense," said Parker. "We coach that up during the week on how to get those turnovers."
 
In addition to collecting takeaways, the defense has been stellar in blocking passes, defending 13 passes to rank 12th in the country. Parker gives credit not only to the cornerbacks, but the big guys up front.
 
"The defensive line has done a great job with Reese Morgan and Kelvin Bell," said Parker. "When the quarterback is ready to throw the ball they have been working on getting their hands up and that has helped us a lot."
 
Parker said Parker Hesse has been back in the mix of things in practice this week and he was impressed with Wednesday's practice.
 
"We had good tempo today and guys were hitting each other," Parker said.
 
Saturday's game will kickoff at 11 a.m. (CT) inside Kinnick Stadium. A limited number of tickets remain and can be obtained by contacting the Iowa Athletic Ticket Office by phone (1-800-IA-HAWKS), online (hawkeyesports.com/tickets), or in person at the ticket window at Carver-Hawkeye Arena.