24 Hawkeyes to Watch 2016-17 | Box Score (PDF) | Photo Gallery | Boxscore
IOWA CITY, Iowa – The University of Iowa soccer team dropped a 1-0 decision to Michigan in its Big Ten opener Friday night at the Iowa Soccer Complex.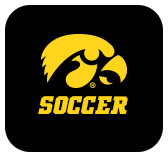 "I was pleased with the effort," said UI head coach Dave DiIanni. "If we can perform like we did today throughout the year I think we will be fine."
 
The Wolverines snuck a goal past sophomore goalkeeper Claire Graves in the 46th minute when Abby Kastroll knocked in the pass from Jada Dayne.
 
Iowa fought back, peppering seven shots in the second half in an effort to knock in the equalizer. Junior Karly Stuenkel's attempt in the 73rd minute caromed off the cross bar before Michigan's Sarah Jackson made a save on Jenna Kentgen's follow. 
 
"We made a mistake for 15 seconds by not defending a set piece on a bad foul and we knew that would be Michigan's strength," said DiIanni. "If we can show that resolve and create the chances that we did with that kind of Michigan team, then we will be fine."
 
Goalkeeper Claire Graves made a career-high nine saves in 90 minutes.
 
"I thought we showed a lot of character coming back after giving up the goal," said DiIanni. "We created chances that no team has created against Michigan this year."
 
The Hawkeyes (6-3-0, 0-1-0) return to action Sunday, hosting Michigan State at 1 p.m. (CT). The game will be televised on BTN.