Hawkeye Fan Shop — A Black & Gold Store | 24 Hawkeyes to Watch 2016-17 | Hawk Talk Monthly — September 2016
By DARREN MILLER
hawkeyesports.com
IOWA CITY, Iowa — No one would expect George Kittle to be pleased with the outcome of yesterday's football game in Kinnick Stadium.
 
He wasn't.
 
But while No. 11 Iowa played with a target on its back, the Hawkeye offense targeted Kittle. The senior tight end caught five passes for 110 yards — more all-purpose yards than any player in the game. It is the most receiving yards for an Iowa tight end since Jake Duzey caught three passes for 110 yards during a 30-14 victory at Illinois on Nov. 15, 2014.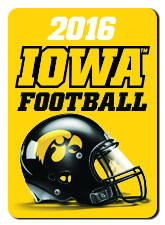 That was 20 games and 15 wins ago.
 
A 23-21 setback to five-time Football Championship Subdivision national champion North Dakota State was a burr under Kittle's saddle. He was in no mood to put a positive spin on his career day to media assembled postgame under the stadium.
 
"I don't even think about it. I didn't play well enough in the run game," Kittle said. (The Hawkeyes rushed for 34 yards on 25 attempts, an average of 1.4 yards per run.)
 
But it was clear from the outset that Kittle would factor prominently in Iowa's game plan. Quarterback C.J. Beathard went Kittle's way on the first play of the Hawkeyes' first offensive series, but the pass was slightly overthrown.
 
Kittle caught two balls for 58 yards in the second quarter, the longest going for a career-long 51 yards. Officially, he was thrown to eight times, but it should have been nine. With 2:12 left in the third quarter, Beathard tossed a 9-yard touchdown pass intended for a wide-open Kittle in the back of the end zone, but teammate Matt VandeBerg dove in front and snatched up his second touchdown reception of the game.
 
It gave the Hawkeyes a 21-14 lead.
 
For Kittle, five receptions matches a career-high (he also had five against Minnesota last season) and the yards are his most ever.
 
And Kittle wasn't just the go-to guy for Beathard. When Iowa's starting signal caller was injured midway through the third period, the Hawkeyes substituted true freshman Nathan Stanley. Stanley's first play was a 37-yard completion to Kittle; his third play was an 8-yard completion to Kittle.
 
"The tight end is important in Iowa football and I like being involved in the offense whether that's the ground game or in the air," Kittle said.
 
But as Kittle mentioned, he was not flawless. On Iowa's first play of the second half, running back LeShun Daniels, Jr., ran off left tackle for 62 yards to the North Dakota State 3, but the play was called back because of holding on Kittle. A touchdown there would have put the Hawkeyes ahead by 14 points.
 
"I think my arm might have got hooked on him and if that's what the ref sees, he's going to throw the flag," Kittle said. "That hurt. Then we stalled from there and that's big momentum for them; they took advantage of it."
 
Yesterday's outcome marked the first regular season loss for the Hawkeyes since falling in overtime to Nebraska at home on Black Friday in 2014. Iowa rebounded well after that setback on a cold November afternoon two years ago and now looks for a strong start in a Big Ten Conference opener Saturday at Rutgers.
 
One loss won't remove the target from Iowa's back. It also won't stop the Hawkeyes from targeting Kittle.