24 Hawkeyes to Watch 2016-17 | Hawkeyes in the NFL | Hawk Talk Monthly — September 2016 | Buy Tickets
By STEVE ROE
hawkeyesports.com
 
IOWA CITY, Iowa — What a difference a year makes.
 
One year ago, the University of Iowa football team celebrated its third win when Marshall Koehn connected on a 57-yard field goal to send the Hawkeyes to a 27-24 walk-off victory over Pittsburgh in Kinnick Stadium.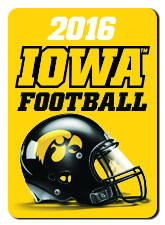 On Saturday, the shoe was on the other foot, literally, as North Dakota State, the top-ranked FCS team in the nation, converted a 37-yard field goal as time expired, ending Iowa's home winning streak at nine games with a 23-21 victory.
 
A year ago, that win over Pittsburgh was a key game for the Hawkeyes, who would go on to win all 12 regular season games.  Along with the Pitt victory, Iowa won four more games that were decided by eight points or less.
 
"There is a fine line in winning and losing, especially against good teams," said Ferentz, during an exclusive interview with hawkeyesports.com on Sunday afternoon.  "We had a lot of respect for North Dakota State coming into the game, and we certainly feel that way now. 
 
"They know how to win, have won a lot, and played a good football game.  They made us play left-handed a little bit; they played to their strengths, so you have to give them credit."
 
Iowa had won nine straight games in Kinnick. Dating back to 2013, the four most recent home losses have come by a combined 10 points.
 
"Our last four losses in Kinnick have all come down to the last play or series," said Ferentz.  "It is a real fine line, and that is something we try to instill in our players at all times, the small details, making the makeable plays. 
 
"If you look at our first offensive play of each half (against NDSU), we couldn't quite execute a pass play in the first half, and then had a long run called back due to a penalty in the second half.  Those little things can have a big impact in a game if you look at the big picture."
 
With Iowa leading 21-14 in the fourth quarter, North Dakota State used two scoring drives that consumed most of the final period, ultimately winning the game on the last play.
 
Iowa's offense was led by senior tight end George Kittle (five catches, 110 yards), and senior wide receiver Matt VandeBerg (four catches, 39 yards, two touchdowns).  Riley McCarron had a 30-yard reception for Iowa's first score of the day.
 
"George and Matt are two seniors that have done a good job and have been productive," said Ferentz.  "George is a big, solid target.  Matt has been playing well and has played consistently well for two years now.  I would also mention Riley as well; he is another senior who is doing a great job.  We need continued production from our seniors moving forward."
 
While the Hawkeye defense allowed two touchdowns and a field goal, the Bison were able to maintain possession throughout the fourth quarter and totaled 239 rushing yards.
 
"The biggest thing we have to address right now is that we have to do a better job against the run," said Ferentz.  "North Dakota State stayed with the ground game yesterday; they threw in a couple of wrinkles and were successful.  That is the biggest thing for us to not give up that kind of yardage in the run game."
 
Senior quarterback C.J. Beathard left the game in the third quarter, but returned to finish Iowa's final scoring drive of the day with a nine-yard completion to VandeBerg.  Beathard completed 11-of-22 attempts for 152 yards and three touchdowns.  He has thrown three scoring strikes in consecutive games.
 
"C.J. is OK; they took x-rays, and everything was negative," said Ferentz.  "He may be a little sore this week, but should be full speed Saturday.  James Daniels and Sean Welsh are two guys we expect back in the rotation; that will help us fortify our offensive line moving forward."
 
Iowa travels to Rutgers on Saturday (11 a.m. (CT), ESPN2) for the first-ever football game between the two schools.  Chris Ash, a native of Ottumwa, Iowa, is in his first season as the Rutgers head coach.
 
"They made a great hire in Chris Ash, I'm well aware of his career, and his background in the state of Iowa," said Ferentz.  "He's a tremendous coach who has done a great job everywhere he has been.  We know Jay Niemann, a Rutgers assistant who did a great job at Northern Illinois, where he was part of a great program.
 
"A.J. Blazek is at Rutgers as well.  A.J. is a former player for us, and another very good coach.  They have good talent, a new staff, new energy; we know we will be in for a tough ball game against a well-coached opponent."
 
The Hawkeyes return home the following week, hosting Northwestern (11 a.m.) in their annual Homecoming contest.