24 Hawkeyes to Watch 2016-17 | 2016 Iowa Soccer Media Guide | Box Score (PDF) | Photo Gallery | Boxscore
IOWA CITY, Iowa — Michigan State's Marisa Oleksiak scored on a penalty kick in the 96th minute, sending the Spartans to a 1-0 victory over the University of Iowa soccer team Sunday at the Iowa Soccer Complex.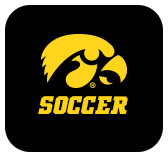 "I didn't think we came out very well in the first half and we challenged our girls to be mentally engaged and a little more competitive," said UI head coach Dave DiIanni.
 
After both teams came up scoreless in the first half, the Hawkeyes came out ready to shoot, leading the Spartans in 15-2 with shots in the second half.
 
"We were the better team in the second half," said DiIanni. "I am really disappointed for our kids, but I am not disappointed in them. We worked really hard and created a lot of chances."
 
Freshman Natalie Winters led the Hawkeyes shooting the ball five times in 90 minutes, coming up just shy, heading into overtime. Scoring when it counted Michigan State found the back of the net halfway through the first overtime.
 
"Soccer can be one of those sports where the best team doesn't necessarily get the points on the day," added DiIanni. "We are as good as we want to make ourselves in terms of the effort, commitment, and competitiveness."
 
Freshman goalkeeper Claire Graves played the entire length of the match, tallying three saves for the day. 
 
This is the second time this season Iowa has been sent into overtime, the first came against Missouri, the Hawkeyes won, 2-1.
 
"We had a great weekend and unfortunately we got zero points, and the other lesson is we have to put teams away," said DiIanni.
 
The Hawkeyes (6-4-0, 0-2-0) hit the road for a pair of Big Ten contests next weekend, beginning with a Sept. 23 match against Penn State.