Hawkeye Fan Shop — A Black & Gold Store | 24 Hawkeyes to Watch 2016-17 | Hawkeyes in the NFL | Hawk Talk Monthly — September 2016 | Buy Tickets
Editor's Note: The following first appeared in the University of Iowa's Hawk Talk Daily, an e-newsletter that offers a daily look at the Iowa Hawkeyes, delivered free each morning to thousands of fans of the Hawkeyes worldwide. To receive daily news from the Iowa Hawkeyes, sign up HERE.
By DARREN MILLER
hawkeyesports.com
IOWA CITY, Iowa —  There is nothing out of the ordinary about college students flying home on a weekend to see dad.
 
Unless you're the Niemanns.
 
It will be Family Feud on Saturday when No. 25 Iowa opens the Big Ten Conference football season against Rutgers in Piscataway, New Jersey. Junior Ben Niemann is a starting linebacker for the Hawkeyes; his father, Jay, is defensive coordinator/linebackers coach for the Scarlet Knights.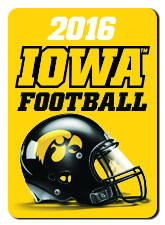 It is the first-ever meeting between Iowa and Rutgers in football, it is also the first occurrence of Niemann vs. Niemann.
 
"We discussed it as a family because we knew this day would come and we were all OK with it," Jay said. "When you're talking about football families, these things are going to happen, whether it's Jim Harbaugh coaching against John Harbaugh or our game Saturday."
 
Ben's younger brother, Nick, is a true freshman linebacker for the Hawkeyes and won't accompany the team on its first road trip of 2016. Ben leads the Hawkeyes with 23 tackles and an interception. Eleven of those stops (five solos) came last week against North Dakota State.
 
In the early 2000s, when time permitted, Jay would lend a hand coaching his son's youth football, basketball, and baseball teams. But trying to defeat dad's team will be a first for Ben.
 
"It will be something I have never dealt with before. I guess we'll find out what it's like," Ben said. "I will have a lot of family there, so that will be good. We'll see if they are wearing black or red."
 
According to Jay, both his parents will make the trip to New Jersey from Iowa and his sister will fly in from Texas. It will also be one of the first times this season that Lou Ann (Jay's wife and Ben's mother) will be in the stands at High Point Solutions Stadium. She has been earning frequent flyer miles going to Hawkeye games this season.
 
Meanwhile, father and son frequently catch up over the phone. Yes, the conversation is football, but not always X's and O's.
 
"We talk football a lot, pretty much every time we're on the phone," Ben said. "Football is so big in both of our lives. I try to get on the phone with him as much as I can."
 
Jay sets his coaching hat aside in favor of his father hat when chatting with Ben.
 
"When we talk, I am more of a parent than a coach," Jay said. "I ask how he feels because this is a very physical sport and it takes a lot out of people."
 "It is a little better simply because I don't have to try to figure out how to stop him if he is a receiver or pressure him if he is a quarterback. We're both on the defensive side so we don't have that dilemma." — Jay Niemann, Rutgers defensive coordinator
Both Ben and Nick played for and graduated from Sycamore (Illinois) High School, where they lived while Jay was defensive coordinator for Northern Illinois. Jay faced the Hawkeyes twice when he was on staff with the Huskies — an 18-17 win by Iowa in 2012 and a 30-27 win by Northern Illinois in 2013.
 
Those aren't the only times Jay has tangled with Iowa. He was a linebacker at Iowa State from 1979-82 and was on the coaching staff at Northern Iowa in 1997 when the Hawkeyes prevailed, 66-0.
 
Ben appeared headed to Northern Illinois to play for his father as part of the recruiting class of 2014, then switched to the Hawkeyes. Although Jay would have loved coaching his son, he has the utmost admiration for the Hawkeyes.
 
"It's a top-notch program and it starts at the top with coach (Kirk) Ferentz," Jay said. "They are one of the programs that doesn't get all these four- and five-star guys, but they still get players with quality intangibles."
 
One thing that will make Saturday's civil war easier is the fact both Niemanns are on defense.
 
"It is a little better simply because I don't have to try to figure out how to stop him if he is a receiver or pressure him if he is a quarterback," Jay said. "We're both on the defensive side so we don't have that dilemma."
 
The only quandary will be finding an opportunity for father and son to exchange how-do-you-dos in person. Jay hopes Ben has time to greet family after the game and before boarding the team bus back to the airport. But as for a father-son reunion?
 
"We have to respect the protocol of both Rutgers and Iowa and what the head coaches would be comfortable with," Jay said.
 
Iowa is 2-1 on the season and has won five straight Big Ten road games. Rutgers (2-1) is on a two-game winning streak. Kickoff is set for 11:01 a.m. (CT).