Hawkeye Fan Shop — A Black & Gold Store | 24 Hawkeyes to Watch 2016-17 | Hawk Talk Monthly — September 2016 | Purchase Single Game Tickets | Game Notes
THE MATCH-UP
The University of Iowa soccer team travels east this weekend for a pair of Big Ten Conference contests, beginning with No. 16 Penn State on Friday at 7 p.m. (CT) at Jeffrey Field.  The Hawkeyes face Ohio State at noon Sunday at Jesse Owens Memorial Stadium in Columbus, Ohio.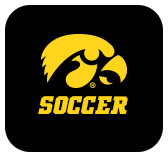 WATCH/FOLLOW LIVE
• Live stats for both contests are available on hawkeyesports.com.
• Friday's game at Penn State will be streamed on gopsusports.com, while Sunday's game vs. Ohio State will be streamed online via BTN Plus. Visit www.btn2go.com (subscription required) to watch the action.
• Fans can follow the Iowa soccer program on Twitter (@HawkeyeSoccer) for live game updates.
QUICK HITTERS
• Iowa will face its first ranked foe this season in Penn State. The Hawkeyes faced four ranked opponents last season. 
• Twelve different Hawkeyes have scored at least one goal in 2016.  Iowa had eight players score during the 2015 campaign.
• Of Iowa's 21 goals, 14 have come in the second half or later, with one goal in overtime and 13 in the second half. 
• Iowa has started at least five freshmen in every game this season.
• Six players – Karly Stuenkel, Natalie Winters, Rachele Armand, Morgan Kemerling, Hannah Drkulec, and Claire Graves – have been in the starting lineup in each of the first 10 matches. 
• Eight players – Rose Ripslinger, Devin Burns, Natalie Winters, Isabella Blackman, Kaleigh Haus, Rachele Armand, Morgan Kemerling, and Olivia Fiegel – have scored the first goals of their careers this season.
• Junior Karly Stuenkel is second on the team with four goals and three assists for 11 points this season. 
• Iowa had a six-game winning streak from Aug. 21-Sept. 9. It was the longest streak for the program since 2013. 
• Iowa is outshooting opponents by a margin of 171-128, and outscoring opposing teams, 21-16, in 10 contests.
 SCOUTING PENN STATE
• Penn State is 16th in the NSCAA rankings this season — the second highest ranked team in the Big Ten.  The Nittany Lions, who are 5-2-2 on the year, have faced four ranked opponents and are undefeated in each of its last five contests.  
• The Nittany Lions defeated Wisconsin and battled to a draw against No. 10 Minnesota.  Penn State is 1-0-1 in league play.
• Penn State has scored 15 goals this season with 70 shots on goal.  Frannie Crouse leads PSU with six goals and 13 points. 
• Goalkeeper Amanda Dennis has spent 847 minutes between the posts, making 26 saves and posting a 0.85 goals against average. 
PENN STATE VS. IOWA — THE SERIES
• Penn State leads the all-time series against Iowa, 21-2-0. The Hawkeyes defeated the Nittany Lions twice during the 2013 season.   
SCOUTING OHIO STATE
• Ohio State, who is 6-3-1 this season, is receiving votes in the NSCAA rankings.  The Buckeyes are 3-1-0 at home and are 0-1-1 in league play.  The Buckeyes tied Wisconsin (2-2) and fell at No. 10 Minnesota (3-0) during the opening weekend of conference place.  
• The Buckeyes have scored 17 goals this season, with 15 assists off a total of 107 shots. Lindsay Agnew leads Ohio State with five goals and 13 points. 
• Goalkeeper Jillian McVicker has seen the most time at goalie, making 34 saves and posting a 1.38 goals against average.  
OHIO STATE VS. IOWA — THE SERIES 
• Iowa trails Ohio State, 12-6-1, in the all-time series. The Hawkeyes fell, 3-1, to Ohio State last season in Iowa City after winning 2-1 in Columbus in 2014. 
FAB FIVE
Five freshmen have scored their first career goals for the Hawkeyes this season. Devin Burns and Olivia Fiegel are leading the class, finding the back of the net twice each. Natalie Winters, Isabella Blackman, and Kaleigh Haus have all scored once. 
LAST TIME OUT 
Iowa was on the wrong end of a pair of 1-0 decisions to start Big Ten play in matches against Michigan and Michigan State.  The Hawkeyes dominated the action against the Spartans, holding a 19-7 advantage in shots, but Michigan State converted a penalty kick in overtime to secure the victory.
TOELLE PACES TEAM
Senior Bri Toelle leads the team with five goals and 12 points this season. The Virginia native tied her career best five goals from last season. She led the team with 15 points and five assists in 2015. She is tied for third in the Big Ten in goals and tied for second in points per game, starting eight contests this season. 
OFFENSIVE BARRAGE
• Through the first 10 games of the season, the Hawkeyes are one of the top offensive teams in the Big Ten.  Iowa ranks in the top five in four different offensive categories — 2nd in goals (21), 2nd  in points (61), tied for 2nd in assists (19), and third in shots (171). 
• Iowa ranks in the top 31 in the nation in goals (25th, 21), points (30th, 61) and assists (31st, 19).
• The Hawkeyes have scored two or more goals in six games, including five strikes in a victory over SIUE. They were the most goals since 2012. 
• Iowa's five goal output is tied for the high water mark in the Big Ten this season and the team's seven assists are the most in the conference in a game this season.
IN GOAL
Freshman Claire Graves has started every game for the Hawkeyes, making 40 saves — the third-most in the Big Ten — and posting a 1.65 goals against average. 
• The Indiana native made seven saves en route to her first career victory at Missouri and she posted her first career shutout in a 1-0 victory over Eastern Michigan.
• Graves made a career-high nine saves in the 1-0 loss to Michigan on Sept. 16.
STUENKEL X 2
Junior Karly Stuenkel tallied the second two-goal game of her career in Iowa's 4-1 victory over Colorado State on Sept. 2.  The St. Charles, Illinois, native is one of two Hawkeyes (Bri Toelle) to tally a two-goal game this season.  Toelle had her first career multi-goal game in Iowa's 3-2 win over Wyoming.
B1G HONORS
Iowa has earned weekly Big Ten Conference recognition twice during the 2016 season.
• Junior Karly Stuenkel was the Offensive Player of the Week on Sept. 6 after scoring three goals and adding an assist in Iowa wins over Colorado State and SIU Edwardsville.
• Forward Olivia Fiegel was the Freshman of the Week on Sept. 13 after scoring goals in road games at Iowa State and Colorado.  The goal against the Cyclones was her first career game-winner.
FRESHMEN PHENOMS
• Iowa's nine player freshmen class was ranked as the 28th-best recruiting class in the nation by BigSoccer.com.  
• Two freshmen — Natalie Winters and Hannah Drkulec — have national team experience.  Winters has competed in six U18 Women's National Team camps, while Drkulec played on the Croatian Women's National Team in 2015.
TEAM CAPTAINS
Juniors Rachele Armand and sophomore Aubree Larson are Iowa's team captains for the 2016 season. Larson will miss the entire season because of injury. 
COACHING STAFF CHANGES
The Hawkeyes have two new additions to the coaching staff for the 2016 season in interim assistant coach Nate Castillo and volunteer assistant Chris Early.  Both are UI alums.  Castillo joins the program after serving as a high school assistant coach at City High in Iowa City, while Early was an assistant coach at Northwestern State last season.
ON THE HORIZON
The Hawkeyes will return home hosting Purdue for a Friday night 7 p.m. (CT) contest on Sept. 30 at the Iowa Soccer Complex.