Hawkeye Fan Shop — A Black & Gold Store | 24 Hawkeyes to Watch 2016-17 | Hawkeyes in the NFL | Hawk Talk Monthly — September 2016 | Buy Tickets | Sunday Conversation Video
By DARREN MILLER
hawkeyesports.com
IOWA CITY, Iowa — The University of Iowa football team opened its Big Ten Conference season on the road Saturday for the 14th time in Kirk Ferentz's 18 seasons as head coach. The last four league openers have been away from Kinnick Stadium and the Hawkeyes have won all four.
 
"We were pleased to get the victory, whether it was a Big Ten game or not," Ferentz said Sunday during an exclusive interview with hawkeyesports.com. "It was great to go on the road and get a victory. We needed that after a tough weekend last weekend."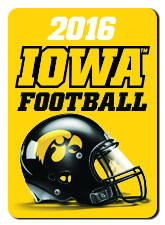 Iowa downed Rutgers, 14-7, on Sept. 24 and Ferentz was most pleased with Hawkeye performances to close the second and fourth quarters. In the second, Iowa turned in a four-play goal-line stand that netted only two yards for Rutgers. Then, with the ball on their own 1-yard line, the Hawkeyes went 99 yards in eight plays for a 90-second touchdown drive.
 
Near the end of the game, Iowa stopped Rutgers on fourth-and-2 from Iowa's 17. Then, with 1:34 remaining and facing third-and-7, senior running back LeShun Daniels, Jr., rushed 12 yards to pick up a first down and seal the win.
 
"There are a lot of things we can still do better and that came across in the tape," Ferentz said. "But the thing I was happiest about and most proud of the team — I thought they did a really good job at the end of both halves."
 
Iowa's defense also excelled in the red zone, holding Rutgers to 1-of-4 on red zone scoring chances. The Scarlet Knights entered the game 8-for-8 in red zone opportunities.
 
"Red zone defense is so important," Ferentz said. "We're probably giving up more yards than we would like between the 20s, but you really make your money down in the red zone both offensively and defensively."
 
The Hawkeyes take a 3-1 record into their Homecoming game Oct. 1 against Northwestern (1-3, 0-1). Iowa has won the last three meetings and in the last two, the Hawkeyes have outscored Northwestern, 88-17. The Wildcats won three in a row from 2008-10.
 
"It has always been a tough series ever since coach (Randy) Walker was there (1999-2005) and now with coach (Pat) Fitzgerald (2006-present)," Ferentz said. "It has been a hard-fought series and that is what we expect from them this year. They have a lot of good players back from last year, a team that had great success and I know they are eager to get a win as well."
 
Health-wise, Ferentz said the Hawkeyes came away from the Rutgers victory "better than the last couple weeks."
 
"We have a couple guys we may have to hold back on Monday, but by Tuesday everybody should be ready to roll," Ferentz said.
 
Tickets remain for Iowa's Homecoming game against Northwestern on Oct. 1. Kickoff is set for 11:01 a.m. (CT). To purchase tickets, click HERE.