Hawkeye Fan Shop — A Black & Gold Store | 24 Hawkeyes to Watch 2016-17 | Hawkeyes in the NFL | Hawk Talk Monthly — September 2016 | Buy Northwestern Tickets
By JAMES ALLAN
hawkeyesports.com
IOWA CITY, Iowa — Ron Coluzzi spends a lot of time with Naomi, she doesn't leave his side, and he sleeps with her on a nightly basis.
 
Naomi is the name of an actual football that Coluzzi, the University of Iowa punter and kickoff specialist, carries around with him around the UI campus.  It also happens to be the name of Coluzzi's 2000 Nissan Altima.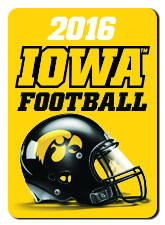 "Everywhere I go, (the football) doesn't leave my sight," said Coluzzi, a graduate transfer from Central Michigan. "It's something I like to carry around because in a game, ball security is important and you have to be comfortable."
 
It's quirky, but maybe it has something to do with Coluzzi's instant success during his first season as a Hawkeye.
 
Through four games, Coluzzi ranks fourth in the Big Ten Conference with a 43.2 average on 20 punts.  Fifteen of his 20 punts have been fair caught, five have traveled 50 or more yards, and six have been downed inside the 20 yard line.
 
Last season with the Chippewas, Coluzzi averaged 39.3 yards on 59 punts with 20 punts inside the 20 and 23 fair catches.
 
Coluzzi has been one of Iowa's early-season bright spots, but he doesn't believe he has yet to live up to his expectations.
 
"I haven't been punting my absolute best," said Coluzzi, who has also recorded 18 touchbacks on 22 kickoffs. "This last game (at Rutgers), I punted average at best when we had the "punt-punt" called and not the rugby punts. I didn't hit my best ball so there is a lot of room for improvement.
 
"I wasn't happy with my performance, but at the end of the day we got the win and you move on."
 
In a game of field position, Coluzzi swung it in the Hawkeyes' favor against the Scarlet Knights. He averaged 42 yards on seven punts and Rutgers has zero yards on three returns in a 14-7 Iowa win.  He was named the Big Ten Special Teams Player of the Week on Sept. 26 for his efforts.
 
"It means a lot," he said. "It means more to the team than to me. The coaches did a tremendous job putting in the game plan; executing it was the next step."
 
Coluzzi has shown the ability to get impressive hang time on his punts. It's strategic because he doesn't want to be in a position to have to make a tackle as the last line of defense.
 
"After that Purdue hit two years ago (he was run over trying to tackle Frankie Williams on a punt return), it's my goal to put the ball as high as I can and as far as I can so that my coverage can get down there and we can fair catch it so there is no return so I don't have to make a tackle," he said.
 
"I have full faith in my coverage; they're phenomenal guys."
 
Coluzzi credits the punting unit for his success so much so that he's taking out the shield and gunners for a Thursday evening dinner. He'll say "thank-you" to the rest of the unit next week when his checking account comes back in store.
 
Naomi will probably be there to get an assist for helping Coluzzi be comfortable as a Hawkeye.
 
Iowa hosts Northwestern for Homecoming at 11:01 a.m. (CT) Saturday inside Kinnick Stadium.  Tickets are available through the UI Athletics Ticket Office, hawkeyesports.com, or by calling 800-IA-HAWKS.