Hawkeye Fan Shop — A Black & Gold Store | 24 Hawkeyes to Watch 2016-17 | Hawkeyes in the NFL | Buy Tickets | Hawk Talk Monthly — September
By DARREN MILLER
hawkeyesports.com
IOWA CITY, Iowa — After the final college football game for Bryan Bulaga in 2010, he hoisted the trophy given to winners of the Orange Bowl. A little more than a year later, he hoisted the Lombardi Trophy, given to winners of the Super Bowl.
 
Bulaga credits much/most of his playing success — and the opportunity  to lift championship trophies — for the experience gained during his career as an offensive lineman at the University of Iowa from 2007-09. Bulaga was named Big Ten Conference offensive lineman of the year in 2009.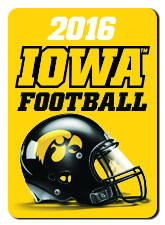 On Friday, for the first time since his playing days with the Hawkeyes, Bulaga returned to Kinnick Stadium, where he will serve as honorary captain for Iowa's Homecoming contest against Northwestern on Oct. 1.
 
"This program did everything for me," Bulaga said Friday after addressing Hawkeye players and staff in the Stew and LeNore Hansen Football Performance Center. "Everyone wants to see wins and Iowa football is about winning. But the thing a lot of people don't see is the way guys mature as men here. They come in as 17, 18-year-olds and become men under (head) coach (Kirk) Ferentz and (strength and conditioning) coach (Chris) Doyle."
 
What makes Bulaga's quick rise to stardom more impressive is that he played offensive line for just one season in high school — and only because he requested a move from tight end at Marian Central Catholic High School in Woodstock, Illinois. Because of his size, Bulaga played line at the pee wee level, but in high school he was primarily a tight end, fullback, and linebacker.
 
His high school coach appreciated Bulaga's sacrifice of moving to left tackle.
 
"We had our offensive line filled out and we were a left tackle short," Bulaga said. "I said, 'I will do it. I will probably do it in college so I might as well get a head start now and see how it is.'"
 
Bulaga said UI assistant coach Reese Morgan, who coached offensive line for the Hawkeyes at the time, also deserves credit for his accomplishments. Bulaga was the 23rd player selected in the 2010 NFL Draft by the Green Bay Packers and was named to the 2010 NFL All-Rookie Team. The Packers defeated Pittsburgh, 31-25, in Super Bowl XLV on Feb. 6, 2011, in Arlington, Texas.
 
"It was surreal winning a Super Bowl my rookie year and I was fortunate enough that I was starting for the team," Bulaga said. "It is one of those things you will never forget. It is such a special moment to hold the Lombardi Trophy. It's incredible and you couldn't ask for a better rookie season than that."
 
Since then, two other Hawkeyes have joined Bulaga with the Packers: defensive back Micah Hyde and defensive tackle Mike Daniels.
 
"They are two productive players for us in Green Bay and two great guys, too," Bulaga said. "It's building a little Iowa team up three in Green Bay. It's good to be around guys that went to Iowa as well — you can talk to them while you're sitting in a cold tub with ice up to your neck. You can talk about how much fun you had at Iowa."
Iowa hosts Northwestern at Kinnick Stadium (11:01 a.m., ESPNU) Saturday. Bulaga will accompany Iowa's captains to midfield for the pregame coin toss.  He will also be with the Hawkeyes in the locker room before and after the game.