Hawkeye Fan Shop — A Black & Gold Store | 24 Hawkeyes to Watch 2016-17 | Meet Our 2016 Kid Captains | Konner Guyer Video
By CATIE MALOOLY
UI Health Care Marketing and Communications
 
IOWA CITY, Iowa — Konner Guyer lights up every room he enters. The bright and curious 7-year-old always has a smile on his face and doesn't let the challenges he has encountered slow him.
 
In 2008, Konner's mother, Tanya Tilley, was pregnant with twins. At 20 weeks gestation, she was admitted to a Des Moines, Iowa, hospital for twin-twin transfusion syndrome, a rare condition that can occur when identical twins share a placenta. As a result, blood flows unevenly between the babies.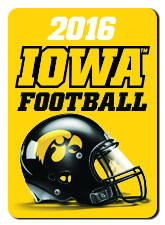 "One baby gets all the vitamins and nutrients, and the other baby basically starves," explains Tanya.
 
Tanya's sons, Konner and Kolby, were born via emergency C-section at 28 weeks gestation. Konner weighed 2-pounds, 3-ounces, and Kolby weighed 1-pound, 3-ounces. Kolby passed away after six days.
 
On Thanksgiving, Konner underwent emergency surgery to remove about nine inches of his bowel because of a serious intestinal disorder. When it was discovered that Konner also had a severe brain bleed, he was transported by ambulance to University of Iowa Children's Hospital.
 
"They 'lost' him about 21 times on the way here," remembers Tanya. "At the slightest touch of a doctor's hand or my hand, he would stop breathing."
 
It was a tough time for Konner's family. Not only were they worried about Konner, they also needed to grieve the loss of his twin brother.
 
"When I was away [for Kolby's funeral], I knew that the nursing staff and the doctors here had Konner's best interests at heart," says Tanya.
 
During his time in the hospital, Konner needed a shunt placed to redirect fluid buildup on his brain. He spent 121 days in the Neonatal Intensive Care Unit before going home in March, 2009.
 
"Konner finally got to come home on oxygen and an apnea monitor, and that was the scariest thing ever," says Tanya. "I was elated to be home, yet so scared because I have this fragile little baby that has had multiple brain surgeries and breathing spells, and I was bringing him home to take care of him myself."
 
Konner has undergone 18 surgeries, seven that were to address shunt malfunctions. During each malfunction, Konner experienced seizures. He has also endured ongoing gastrointestinal issues, and he has been diagnosed with chronic lung disease and quadriplegic cerebral palsy.
 
"Konner's taught me a lot," says Tanya. "He has taught me that no matter what hurdles are thrown in front of you, you can overcome anything."
 
Konner's family is grateful for everyone who has been part of his journey.
 
"I can't be more thankful for everybody here. Dr. [Eyad] Hanna has been Konner's GI doctor since birth," says Tanya. "He had many nights where he would sit in his office and shed a tear because he couldn't figure out why Konner was continuously projectile-vomiting. He's not just the doctor, he's our family."
 
"There are so many people who have gone above and beyond — social workers, drivers, cleaning crew, the people that work at the stands selling coffee and muffins," adds Tanya. "He wouldn't be the smiley, happy, loving, compassionate little boy that he is today without everybody here."