Hawkeye Fan Shop — A Black & Gold Store | 24 Hawkeyes to Watch 2016-17 | Hawk Talk Monthly — September 2016 | Photo Gallery | Box Score (PDF) | Boxscore
IOWA CITY, Iowa — Freshman Devin Burns' third-minute goal propelled the University of Iowa soccer team to a 1-0 victory over Purdue on Friday night at the Iowa Soccer Complex.  The win was the Hawkeyes' first in Big Ten play this season.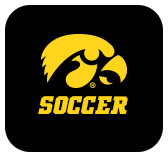 "It was a good start for us," said UI head coach Dave DiIanni. "We focused on getting out quick and wanted to press them."
 
After not scoring in its first four league contests, Iowa struck early to gain confidence. Junior Karly Stuenkel played a ball into freshman Olivia Fiegel, who gave it up to Burns for the goal. It was the Illinois native's third goal as she beat Purdue goalkeeper Jordan Ginther to give Iowa a 1-0 lead.
 
"It was important to come out as hard as we could, especially against a team like Purdue," said Burns, who strike was her second career game-winning goal. "We knew getting the early goal was going to be really important."
 
The Hawkeyes had chances to add to their lead in the first half but had to settle for the 1-0 lead.  Iowa out-shot the Boilermakers, 6-4, in the opening 45 minutes.
 
Purdue pushed forward in the second half, but Iowa freshman goalkeeper Claire Graves was up to the challenge.  The Boilermakers took 10 second-half shots — and 14 for the game — but Graves made five saves and Iowa had a team save to keep the scoreboard clean.
 
The shutout was Graves' third of the season.
 
"We knew it was going to be a hard-fought game and it was going to go all the way to the end," said DiIanni. "We bent but we didn't break, we took their best shot.  We grew up a little bit as a team today.  I was proud of our kids."
 
Iowa (7-6-0, 1-4-0) returns to action Oct.6 at Minnesota.  Game time is 7 p.m. (CT).