Hawkeye Fan Shop — A Black & Gold Store | 24 Hawkeyes to Watch 2016-17 | Hawkeyes in the NFL | Hawk Talk Monthly — September 2016 | McCarron Fills Void With Career Day
Editor's Note: The following first appeared in the University of Iowa's Hawk Talk Daily, an e-newsletter that offers a daily look at the Iowa Hawkeyes, delivered free each morning to thousands of fans of the Hawkeyes worldwide. To receive daily news from the Iowa Hawkeyes, sign up HERE.
By DARREN MILLER
hawkeyesports.com
IOWA CITY, Iowa — Not much happens when opponents throw Desmond King's way. Plenty happens when they kick to him.
 
King, a University of Iowa senior cornerback, won the Jim Thorpe Award in 2015 as the top defensive back in the nation. After five games this season, he should also be considered for the Rodgers-Dwight Trophy, presented to the Big Ten's top return specialist.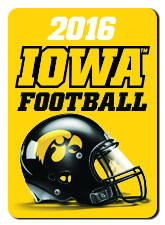 Entering yesterday's Homecoming game against Northwestern, King had been targeted 10 times, allowing six receptions for 41 yards. The average depth of route run against him was 4.1 yards and King allowed an average of just 1.3 yards after reception.
 
Against the Wildcats, King made four tackles with a game-high two pass breakups. As stout as he was on defense, he was equally swift in the return game.
 
The first time he received a punt, King went 32 yards to the Wildcat 5-yard-line. Iowa scored on the next play.
 
The second time he received a punt, King again returned it 32 yards; seven plays later, the Hawkeyes were back in the end zone.
 
"We had opportunities because we had guys blocking and doing the best they could to make open lanes for me and I seized the opportunity," King said. "I felt that helped our offense a lot."
 
King returned four punts for 77 yards.
 
UI head coach Kirk Ferentz called the kicking game the "biggest positive" of the day for the Hawkeyes. Even when King wasn't the returner, he made things interesting.
 
The Hawkeye defense forced a three-and-out to begin the second half and Northwestern punted away from King toward senior Riley McCarron. King ran upfield and away from McCarron with his arms outstretched giving the appearance he was ready to make a catch. While several Wildcats covered King, McCarron took the punt and returned it 38 yards to the Northwestern 28. Freshman kicker Keith Duncan made the second field goal of his career six plays later and Iowa led, 24-17.
 
"We punted the ball to the right and he ran a nice little decoy move, that was kind of cool," Northwestern head coach Pat Fitzgerald said. "I might steal that."
 
King was equally explosive on kickoffs, returning three for 83 yards. And once again, McCarron was an excellent complement, returning one for 54 yards.
 
"It looked from my vantage point and from my eyes upstairs that we just got our butts whipped," Fitzgerald said. "It looked like we got blocked everywhere."
 
There was no denying that Iowa's blocking in the kicking game was superb.
 
"We thought we would have an opportunity in the return game in both phases, but still, the guys have to block well, and then Desmond and Riley both did a good job returning," said UI head coach Kirk Ferentz.
 
King is the first Hawkeye with 75-plus return yards on both kickoff and punt returns since Kahlil Hill in 1998. His 162 combined return yards were the third-most all-purpose yards in the game behind Wildcat Justin Jackson's 184 and McCarron's 170.
 
"When you watch him throughout his career, he has zero issues with going and getting a ball in a crowd," Fitzgerald said. "He has great confidence with the ball in his hands. I think we gift-wrapped it a little bit, but credit him. He is smooth and has great ball skills."
 
For the season, King has 10 kick returns for 295 yards (29.5 average) and 10 punt returns for 114 yards (11.4). He is Iowa's leader in all-purpose yards with 409 (81.8 per game).
 
The Hawkeyes (3-2 overall, 1-1 Big Ten) hit the road for Minnesota (3-1, 0-1) on Oct. 8 with the traveling trophy Floyd of Rosedale at stake. Kickoff is set for 11 a.m. (CT) and will be televised by ESPN2. Iowa won last season, 40-35.