Hawkeye Fan Shop — A Black & Gold Store | 24 Hawkeyes to Watch 2016-17 | Hawkeyes in the NFL | Hawk Talk Monthly — September 2016
By DARREN MILLER
hawkeyesports.com
 
IOWA CITY, Iowa — On the road with a trophy at stake has been a winning combination for the University of Iowa football team.
 
The Hawkeyes are 3-2 overall, 1-1 in the Big Ten Conference. On Saturday they play at Minnesota (3-1, 0-1) with the traveling trophy Floyd of Rosedale at stake. Iowa has won seven straight road games and five straight trophy games.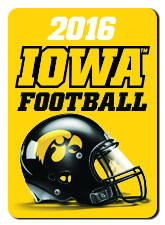 Ironically, the Hawkeyes' road winning streak began after a 51-14 loss at Minnesota on Nov. 8, 2014. They haven't allowed that many points in a game since. Iowa scored first on a touchdown run by Mark Weisman, but trailed 35-7 at halftime.
 
"To have the feeling two years ago in Minneapolis, losing that trophy was not a good feeling at all and the points they put up," UI senior cornerback Desmond King said. "It wasn't a good experience the last time we were up there, so this year we're going to try to change that.
 
After that loss to Minnesota in 2014, the Hawkeyes remained on the road and the next week they won at Illinois, 30-14. Last season they were 5-for-5 in road games, winning at Iowa State (31-17), Wisconsin (10-6), Northwestern (40-10), Indiana (35-27), and Nebraska (28-20). Iowa defeated Rutgers, 14-7, in its first road game of 2016.
 
"They will have a lot of fans there and it's a trophy game, so we're going to have to be locked in and focused in that atmosphere," UI junior linebacker Ben Niemann said. "We're playing for that trophy and we want to keep it in Iowa City."
 
Iowa was without a trophy in the new Richard O. Jacobson Football Operations Building prior to the 2015 season, but the Hawkeyes have since captured the Cy-Hawk twice (versus Iowa State), the Heartland (Wisconsin), Floyd of Rosedale (Minnesota), and the Heroes (Nebraska) trophies.
 
"It's a big game for us," UI junior offensive tackle Ike Boettger said. "The first (trophy game of 2016) went well, but we have to get back on track as a team. I don't think many guys are thinking about the trophy right now. It's getting the W (win) at this point."
 
Floyd, a 98.3-pound solid bronze pig, was not in his normal pen in the entrance of Iowa's football complex Tuesday when players convened for weekly interviews. Instead, he had free range of the building, including a Monday stop in the weight room.
 
"It's always a big deal when you're playing for a trophy like that," said UI junior defensive tackle Nathan Bazata. "We put a lot of emphasis on all of our trophy games. We're excited to go up there because their crowd is loud, so it's a great atmosphere, and we have to be ready for that."
 
Iowa has one Minnesota native on its current two-deep roster (freshman strong safety Amani Hooker of Minneapolis) and the Gophers have one Iowa native on its two-deep (freshman long snapper Trey Hansen of Cedar Falls).
 
Kickoff is set for 11:01 a.m. (CT) from TCF Bank Stadium in Minneapolis. The game will be televised by ESPN2.