Hawkeye Fan Shop — A Black & Gold Store | 24 Hawkeyes to Watch 2016-17 | Hawkeyes in the NFL | Hawk Talk Monthly — Oct. 2016 | Box Score (PDF) | Iowa-Minnesota Recap
Editor's Note: The following first appeared in the University of Iowa's Hawk Talk Daily, an e-newsletter that offers a daily look at the Iowa Hawkeyes, delivered free each morning to thousands of fans of the Hawkeyes worldwide. To receive daily news from the Iowa Hawkeyes, sign up HERE.
By DARREN MILLER
hawkeyesports.com
MINNEAPOLIS — Take a bow, University of Iowa run defense. Your effort was noticed and appreciated.
 
The Hawkeyes entered yesterday's crucial Big Ten Conference slugfest at Minnesota with the 11th-rated rush defense in the league, surrendering 182.8 yards a game; the Gophers were fourth in rush offense at 228.2 yards a game.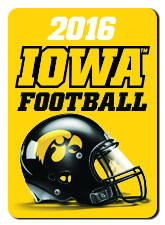 But when the mêlée ended in TCF Bank Stadium, Iowa yielded just 102 yards on the ground and the traveling trophy Floyd of Rosedale was carried into Iowa's locker room for the fourth time in five seasons.
 
That was in contrast to a year ago when the Hawkeyes won, 40-35, in Kinnick Stadium and 940 combined total yards were amassed. Or in Iowa's last trip to Minneapolis, when the Hawkeyes were handled, 51-14.
 
"You get in games, you never know what path they will go," UI head coach Kirk Ferentz said. "If it ends up being a defensive game, you play that way. This game was a flip of last year; nobody could stop anybody last year. This year points came tough. The guys rose to the occasion; it started with our defensive tempo. They set the tone early."
 
Iowa has played two road games this season, winning both by identical scores of 14-7. The Hawkeyes improved to 4-2 overall, 2-1 in the Big Ten.
 
Give Iowa's offense an assist when it comes to the flashy defensive numbers — it held the ball 34-minutes, 55-seconds, or nearly 10 minutes more than Minnesota.
 
"A big factor today was the offense having 10 minutes of extra possession," Ferentz said. "It's important in these low-scoring contests."
 
In a week three loss, the Hawkeyes allowed 236 yards on the ground. They gave up 193 in week four. And seven days ago — during a 38-31 home setback to Northwestern — they allowed 198.
 
"The defensive line came ready to play today, they played well and were able to stop the run," said UI junior linebacker Josey Jewell, who finished with five tackles. "Sometimes it can be put that simple — the defensive line plugs it up everywhere, linebackers fit their gaps, and that forces them to throw the ball a little more.
 
"It's responsibility and everybody doing their job and their job only. It's being able to focus on your job and understand your role."
 
Ferentz said the Hawkeyes showed grit and played with toughness en route to their eighth consecutive road victory, a streak that ironically began after the debacle in Minneapolis in 2014.
 
"We didn't feel like we played a good game in 2014 and all of us take ownership of that," UI senior cornerback Desmond King said. "This year we came up with a different message. We wanted to come out here, play our hearts out, play the full 60 minutes, and leave whatever we have on the field."
 
And when a defense plays like the Hawkeyes did yesterday, King wanted to end the game with the defensive unit on the field. They did just that, with the exception of quarterback C.J. Beathard's victory-formation kneel with 43 seconds remaining.
 
Senior cornerback Greg Mabin enjoyed an up-close view of Minnesota's final play — a fourth-and-15 pass attempt from Iowa's 18. Gopher quarterback Mitch Leidner, who in two previous games against Iowa threw for five touchdowns and no interceptions, went Brian Smith's way…to no avail.
 "Football is truly a game of inches. All it takes is one missed tackle or one gap not filled and there is a big play waiting to happen." — Faith Ekakitie, UI defensive tackle
"It helped that it was fourth-and-long, that made the coverage a little easier," Mabin said. "Once I saw the No. 2 guy go in motion to the other side of the field and they had me one-on-one, I knew the ball was coming my way. I tried to stay my ground and play underneath. (Smith) made a cut inside, I was still underneath, and then he broke to the pylon so I knew the ball had to be coming soon. I tried to read the receiver's eyes and make a play on the ball."
 
It was Minnesota's 20th incomplete pass of the day and Iowa won its sixth consecutive traveling trophy game.
 
"There was a lot of relief," Mabin said. "It was physical. We knew it was going to be a fist fight. A lot of fighting, grinding, and adversity, but at the end of the game we came out on top."
 
It was the first time Minnesota was held to seven points or less in 13 games. The Gophers entered the game averaging 36.2 points per game and three different running backs had recorded 100-yard rushing performances.
 
But Iowa's defense set the tone in the first half, forcing four three-an-outs and getting two takeaways.
 
"It takes all 11 guys," said sophomore safety Brandon Snyder, who recovered a fumble and intercepted his second pass of the season.
 
Senior defensive tackle Faith Ekakitie agreed.
 
"That came from everyone focusing on their keys and the task at hand," Ekakitie said. "When we get 11 guys on the same page doing that play after play, then we're a good defense. If one guy isn't, then big plays happen.
 
"Football is truly a game of inches. All it takes is one missed tackle or one gap not filled and there is a big play waiting to happen."
 
On this cool, sun-splashed day in Minneapolis, the Hawkeyes made tackles, filled gaps, and limited big plays.
 
"If you're doing things the right way with the right effort, hopefully improvement will show," Ferentz said.
 
The Hawkeyes remain on the road Oct. 15 when they play Purdue (3-2, 1-1) at Ross-Ade Stadium in West Lafayette, Indiana. Kickoff is 11 a.m. (CT). Iowa defeated the Boilermakers, 40-20, last season in Iowa City and has won three in a row at Purdue.