Hawkeye Fan Shop — A Black & Gold Store | 24 Hawkeyes to Watch 2016-17 | Hawkeyes in the NFL | Hawk Talk Monthly — Oct. 2016 | Buy Tickets | VIDEO — Sunday Conversation
By DARREN MILLER
hawkeyesports.com
 
IOWA CITY, Iowa — An extended business trip.
 
That's how the University of Iowa football team views Saturday's game against Purdue in Ross-Ade Stadium in West Lafayette, Indiana. The Hawkeyes (4-2 overall, 2-1 Big Ten) have won eight consecutive road games.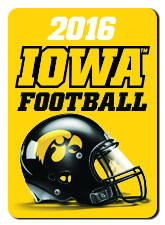 "It's an extended business trip and nothing else," UI head coach Kirk Ferentz said Sunday in an exclusive interview with hawkeyesports.com. "If you go with the right focus and mindset and you have to tune out the environment no matter what that environment may be. That is the key and keeping your eyes on the road and what is front of you."
 
Since late in the 2014 season, the Hawkeyes have won in Champaign, Illinois, Ames, Iowa, Madison, Wisconsin, Evanston, Illinois, Bloomington, Indiana, Lincoln, Nebraska, Piscataway, New Jersey, and most recently Minneapolis.
 
Ferentz referred to the 14-7 victory Oct. 8 against Minnesota as a "pitcher's duel."
 
"Especially in conference play, it's hard to predict going into a game what it's going to be," Ferentz said. "Sometimes you get in a game where it is a pitcher's duel, good defensive play out there. This one boiled down to an outstanding defensive effort on both parts. (Minnesota) played really well, they're an aggressive, athletic defensive football team."
 
Two areas stuck out to Ferentz on Saturday: possession time and run defense. Iowa held the ball nearly 10 minutes more than the Gophers (34:55 to 25:05) and limited them to 102 yards on the ground on 29 attempts.
 
"Our guys made big improvement from what we have seen thus far this year primarily in the run game," Ferentz said. "We had not been defending the run in a way that is meeting our expectations. Yesterday was a big step forward for us."
 
Meanwhile, the Hawkeyes showed patience with their run game, entering the final quarter with 111 yards and finishing with 179, including a game-winning 54-yard touchdown run by junior Akrum Wadley.
 
"I'll give the coaches credit, too, because (Minnesota) was doing a lot of things trying to take the run away," Ferentz said. "We talked about different things, made adjustments — including Akrum's play. Good job of the staff communicating. I saw improvement in all areas of the run game: good clean runs, some others that were very close."
 
Purdue (3-2, 1-1) has won two of three games played at home this season. The Boilermakers are coming off a 34-31 overtime victory at Illinois in a game where they converted nine times on third down and compiled 418 yards of offense (204 rushing, 214 passing).
 
"We have a lot of respect for them. Last year they were one of the most improved teams that we played," Ferentz said. "It was a lot closer than the score indicated (a 40-20 Iowa victory). It was a hard fought game and they have a lot of those players back. They have made strides every year."
 
Ferentz continues to deliver positive news on the health of the team.
 
"Based on what I saw today, we're fairly decent," Ferentz said. "Hopefully everybody who is limited will come around by the end of the week."
 
Iowa and Purdue will kick off at 11 a.m. (CT). The game will be televised by ESPN2.