Hawkeye Fan Shop — A Black & Gold Store | 24 Hawkeyes to Watch 2016-17 | Hawk Talk Monthly — Oct. 2016 | Purchase Single-Game Tickets | Box Score (PDF) | Boxscore
MADISON, Wis. – A second-half goal by Wisconsin sent the Badgers to a 1-0 victory over the University of Iowa soccer team Sunday at the McClimon Soccer Complex.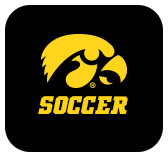 "Wisconsin is a good team defensively, who makes it very difficult on you to create high-quality chances and that was the case today," said UI head coach Dave DiIanni. "We did a nice job of making adjustments at halftime and for the first 15 minutes created good moments through the midfield, but our shape and chemistry in the attack is failing right now."
The Hawkeyes held off the Badgers for the first half before Emily Borgmann scored the first goal of the match off an assist from Micaela Powers, beating the goalkeeper off the ball in the 61st minute, giving Wisconsin the 1-0 lead in the final third. 
The Badgers finished with a 13-7 edge over the Hawkeyes in shots with six being on goal, leading Wisconsin to its fifth shutout of the season.
Freshman Devin Burns and senior Bri Toelle each fired two shots in the first half. Goalkeeper Claire Graves filed five saves on the match. 
"Tuesday is a new day," said DiIanni. "We will be ready to improve as a team and welcome a good Northwestern program on Thursday."
The Hawkeyes (7-8-0, 1-6-0) return to the Iowa Soccer Complex Thursday, hosting Northwestern at 7 p.m. (CT).