Hawkeye Fan Shop — A Black & Gold Store | 24 Hawkeyes to Watch 2016-17 | Hawkeyes in the NFL | Hawk Talk Monthly — Oct. 2016
Editor's Note: The following first appeared in the University of Iowa's Hawk Talk Daily, an e-newsletter that offers a daily look at the Iowa Hawkeyes, delivered free each morning to thousands of fans of the Hawkeyes worldwide. To receive daily news from the Iowa Hawkeyes, sign up HERE.
By RICK BROWN
hawkeyesports.com
IOWA CITY, Iowa — Ike Boettger has been a man of many positions during his football career.
 
He played quarterback, tight end, and defensive end at Cedar Falls (Iowa) High School. He was recruited to Iowa as a tight end, but was moved to the offensive line during his redshirt season in 2013.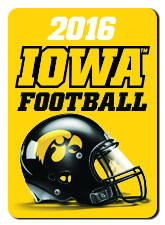 He saw limited duty in eight games in 2014, once starting as the second tight end against Wisconsin. The 6-foot-6, 307-pound junior made six starts at right tackle in 2015 before an ankle injury against Illinois knocked him out of the next seven games.
 
Boettger was back starting at right tackle for the first five games this season, but that all changed at the start of last week. Iowa's coaching staff shook up the starting offensive line heading into last Saturday's Floyd of Rosedale duel at Minnesota.
 
And that's one reason why Floyd was back at the Stew and LeNore Hansen Football Performance Center on Tuesday after a 14-7 victory.
 
Boettger moved from right tackle to left guard. Boone Myers went from left guard to left tackle. And Cole Croston went from left tackle to right tackle.
  
"It was trying to get guys where they might be more comfortable, and maybe have better cohesion," said UI head coach Kirk Ferentz. "The whole group had better cohesion. It's hardly a finished product, but I think we made strides the other day. We have to keep pushing forward."
 
Ferentz said the biggest change was Boettger moving to guard. Myers started 10 games at left tackle last season, and Croston started six games at right tackle.
 
"We did a lot better (last) week," Boettger said. "There was a lot more energy out there. It was a lot more fun. Everybody on the team had a lot more fun."
 
Boettger hadn't practiced a snap at guard since 2014, and even then it was limited repetitions. His only game action at guard had come late in a humbling 51-14 loss at Minnesota two years ago.
 
Boettger said he was told about his new position early in the week.  His first reaction?
 
"Let's do it," Boettger said.
 
There were adjustments to be made.
 
"For me it was a little different, because I had never been in that position," Boettger said. "As the week went on, I got more and more comfortable with it."
 
One of his biggest adjustments was getting acclimated to the speed of his new position.
 
"It's a lot faster," Boettger said of guard. "You're right on the guy. He's right there. You know who you are blocking right away. There's not much space."
 
There are other subtle technique changes that come with moving from the right side to the left side, most notably which hand you have on the ground and your footwork when the ball is snapped.
 
When the Hawkeyes watched film of the Minnesota game as a team Sunday, Boettger said there were a few plays he'd like to do over.
 
"But I think I know how to improve on those," Boettger said.
 
The film session was a better experience than the week before, when the Hawkeyes had allowed Northwestern to sack quarterback C.J. Beathard six times.
 
"When that happens, obviously you're not happy," Boettger said. "We're just looking to improve on last week. We protected him better (against Minnesota) and we can do even better. You watch the film, and there are plenty of things we can clean up. If we give him (Beathard) time, he's going to do his thing."
 
Beathard said nothing changed from his perspective with the shuffled offensive line.
 
"I expected them to do a good job, which they did," Beathard said. "I think we had a little more urgency in practice last week, getting in and out of the huddle. There was more tempo. It was essentially the same guys in the huddle, just different positioning."
 
Boettger thinks better effort at Minnesota was due to a mental adjustment more than position changes.
 
"Personally, I don't think it was the changes," Boettger said. "It was our attitude going into the game. The whole team, just the feeling on the sidelines and on the field. We had a little bit of our confidence back that had been missing the three weeks before."
 
Boettger is listed as the starting left guard heading into Saturday's game at Purdue, but he knows his position isn't written in stone.
 
"It depends on who can play, if someone gets hurt," Boettger said. "You never know going into the week where you're going to end up on Saturday."