Hawkeye Fan Shop — A Black & Gold Store | 24 Hawkeyes to Watch 2016-17 | Hawkeyes in the NFL | Hawk Talk Monthly — Oct. 2016 | Freshman Profile: Manny Rugamba | Freshman Profile: Keith Duncan | Freshman Profile: Nathan Stanley | Freshman Profile: Amani Jones | Freshman Profile: Devonte Young | VIDEO — Amani Hooker
Editor's Note: The following first appeared in the University of Iowa's Hawk Talk Daily, an e-newsletter that offers a daily look at the Iowa Hawkeyes, delivered free each morning to thousands of fans of the Hawkeyes worldwide. To receive daily news from the Iowa Hawkeyes, sign up HERE.
By DARREN MILLER
hawkeyesports.com
IOWA CITY, Iowa — Amani Hooker wants to be the best special teams player on the University of Iowa football team. He embraces the process like many great Hawkeyes before him.
 
Hooker is on pace to one day be a starting safety where he can utilize his hard-nosed, tough demeanor.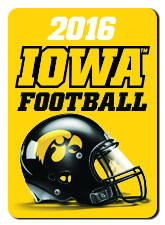 "He has the makings of being a good safety and everything we've seen would lead to that," UI head coach Kirk Ferentz said. "Now the thing is for him to mature, learn the scheme, and keep getting invaluable experience like he does every day."
 
For now, Hooker is content rotating with the second unit at strong safety and doing the best he can on special teams. The kickoff and punt return units are his favorite.
 
"You have to take every role and do your best. That's all you can do," Hooker said. "If you come in with high hopes you might be disappointed and get down on yourself."
 
It was a happy homecoming for Hooker, a native of Minneapolis, on Oct. 8 during Iowa's 14-7 win at Minnesota. Hooker made the first tackle of his career.
 
"I got to see my family and a lot of my friends were there," Hooker said. "I know a couple guys on the other team and it was nice competing against them. It was nice to be up there."
 "You have to take every role and do your best. That's all you can do. If you come in with high hopes you might be disappointed and get down on yourself." — Amani Hooker, UI safety
Hooker prepped at Park Center High School where he was named first-team all-state and conference MVP as a senior. A team captain, Hooker led the Pirates to a 9-3 record and into the state playoffs. He played defensive back, quarterback, running back, and wide receiver in high school, reminding Ferentz of two other Hawkeyes: Desmond King and Marcus Paschal.
 
"In some ways he is like Desmond King: a good all-around player in high school and we thought he would fit the profile of being a safety," Ferentz said. "Marcus Paschal was kind of the same way going way back: a guy that has that kind of versatility. Amani has come in and done a nice job."
 
The 6-foot, 203-pound Hooker is one of 10 true freshman to play for the Hawkeyes this season. The starting defensive backfield consists of seniors King and Greg Mabin at cornerback, junior Miles Taylor at strong safety, and sophomore Brandon Snyder at free safety.
 
"Desmond, Mabin, Miles Taylor, and Snyder are all leaders and even though I'm not playing a lot of reps on defense, they have played special teams before and they are building me up so I can be the best specialist on the team," Hooker said.
 
There were two major factors driving Hooker to sign with the Hawkeyes. He liked the stability of Ferentz's coaching staff and the way they develop players.
 
"I knew if I came here the coaches wouldn't go anywhere," Hooker said. "They would stay here and develop players."
 
The Hawkeyes (4-2 overall, 2-1 Big Ten) travel to Purdue (3-2, 1-1) on Oct. 15 in search of their ninth consecutive road victory. Kickoff is set for 11 a.m. (CT) and the game will be televised on ESPN2.