Hawkeye Fan Shop — A Black & Gold Store | 24 Hawkeyes to Watch 2016-17 | Meet Our 2016 Kid Captains | VIDEO — Maxwell Stancel-Hess
By CATIE MALOOLY
UI Health Care Marketing and Communications
 
IOWA CITY, Iowa — In many ways, Maxwell Stancel-Hess is a typical 12-year-old — he likes to play video games, read, and ride his bicycle around the neighborhood. He's an excellent student and is working toward visiting every national park with his dad, Ryan.
 
But Max's positivity and bravery toward challenges he has faced are anything but typical.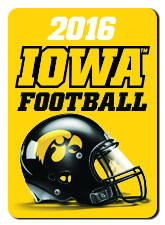 When Max's mother, Andrea, was four months pregnant, an ultrasound at a Cedar Rapids hospital revealed that her baby had spina bifida, a birth defect in which the spinal cord doesn't develop properly.
 
The news shocked Andrea and Ryan.
 
"With all of the nervousness of being a father for the first time and then having this happen too, I was scared," says Ryan.
 
"It was overwhelming," Andrea recalls. "I decided that we were going to do the best that we can and love this baby."
 
The family came to University of Iowa Children's Hospital for specialized pediatric care for their son.
 
"They referred us immediately down here to meet doctors and specialists who have seen and experienced this before," Ryan says.
 
Max was born with a tethered spine outside of his body and hydrocephalus — fluid on the brain. He spent the first month of his life in the Neonatal Intensive Care Unit and had several surgeries to fix the exposed part of his spine and to place a shunt to drain excess fluid off his brain.
 
"Nobody understands his birth defect as well as they do here," says Andrea. "The university is the place to go. If we lived across the state or across the country, I would come here, because I know that they know what they're doing."
 
Since birth, Max has also had surgeries on his bladder, undergone shunt revisions, and had procedures to lengthen his hamstrings and shorten the tendons in his calf muscles. He gets around with a walker and uses a wheelchair for long distances.
 
Andrea and Ryan credit Max's care team, including pediatric urologist Christopher Cooper, M.D., and pediatric neurosurgeon Arnold Menezes, M.D., for their son's progress since day one.
 
"I can't say enough about them," says Andrea. "With the neurosurgeons and the urologist, the GI team, and the whole team put together, it's been marvelous."
 
"They have some of the best doctors in the country, if not the world," adds Ryan. "This place saved my son's life."
 
Aside from Max's care, the family has another special connection to UI Children's Hospital — Ryan works as a plumber, building the new children's hospital that opens in December 2016.
 
"The pipe I am installing may be used with my son and other kids," says Ryan. "It's something I've thought about, that this is going to help my son. So that's a great thing to be a part of."
 
Max is a hard worker and has been an inspiration to all who know him.
 
"Max has taught me about courage, humility, and unconditional love," says Ryan. "He's been through more than most adults go through in their entire lives, and he's my hero for doing it."