Hawkeye Fan Shop — A Black & Gold Store | 24 Hawkeyes to Watch 2016-17 | Hawk Talk Monthly — October
Editor's Note: The following first appeared in the University of Iowa's Hawk Talk Daily, an e-newsletter that offers a daily look at the Iowa Hawkeyes, delivered free each morning to thousands of fans of the Hawkeyes worldwide. To receive daily news from the Iowa Hawkeyes, sign up HERE.
By DARREN MILLER
hawkeyesports.com
IOWA CITY, Iowa — No student-athlete on the University of Iowa volleyball team was born the last time the Hawkeyes got off to a faster start to a season.
 
Iowa won its fourth straight Big Ten Conference match Oct. 8 over Indiana, giving the Hawkeyes a record of 14-4 overall, 4-2 in the conference. Iowa started the 1988 season 16-4. That was 28 years ago and nearly a decade before any of the current Hawkeyes were born.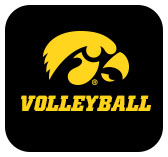 "The Hawkeye nation has embraced what we're doing, the volleyball community nationwide is paying attention and recognizing that we are formidable," UI head coach Bond Shymansky said. "All of that is fun and it feels good that people care, but we're still at the tip of the iceberg. We feel the potential is unlimited and there is no ceiling to our reach."
 
Iowa's current winning streak began Sept. 28 with a straight-set win over Maryland at home. The Hawkeyes went on the road and swept Northwestern on Oct. 1 before adding back-to-back home wins over No. 17 Purdue (3-2) and Indiana (3-0) on Oct. 7 and 8.
 
Balance has been key to Iowa's success and nowhere is it more apparent than hitting. In the last four matches, freshman Meghan Buzzerio has 35 kills, senior Ashley Mariani has 34, junior Jess Janota has 33, senior Lauren Brobst has 32, and sophomore Reghan Coyle has 31. Mariani (.413), Coyle (.407) and Janota (.403) lead in attack percentage.
 
"We are getting great team effort and that has been different than the past couple seasons where we have had very individualized performances," Shymansky said. "You can't expect one player to carry you to victory. Getting that whole team effort — whether it's back row or front row players and even what our bench press group is doing — that is about team effort."
 
This is Shymanksy's third season as Iowa's head coach. The Hawkeyes were 14-17 in 2014 and 12-21 in 2015.
 
"What I envisioned when I took the job was getting our program to the point where we could compete and know we had the opportunity to win every time we stepped into a Big Ten match," Shymansky said. "That has been a big shift and a large part of our mission with what we're doing with our (season mantra) True Mental Toughness."
 "We want to be consistent and dedicated to our mission. There is still a ton of work to do and so many huge opportunities in front of us. We need to keep our team dialed into the minute-by-minute rather than thinking about how long a string will go." — Bond Shymansky, UI head volleyball coach
Winning streaks are nothing new since Shymanksy took over in Iowa City. The Hawkeyes won four in a row three times in his first season and eight in a row in 2015. But he wants the program to be steady, not streaky.
 
"We want to be consistent and dedicated to our mission," Shymansky said. "There is still a ton of work to do and so many huge opportunities in front of us. We need to keep our team dialed into the minute-by-minute rather than thinking about how long a string will go."
 
The Hawkeyes opened the season with five wins and had another four-match winning streak from Sept. 10-17.  Brobst leads Iowa's hitters through the first 18 matches with 171 kills (3.17 per set); senior Loxley Keala is tops in assists (11.31 per set) and aces serves (15); and junior Annika Olsen has a team-high 232 digs (3.93 per set). The hitting balance is rivaled by blocking balance where Coyle (47), Mariani (46), and Janota (43) lead the way.
 
Shymansky said the 2015 Hawkeye team was good, but it didn't take hold of opportunities and finished nine matches below .500. It has been a different result this season.
 
"They are seizing the opportunity better, they are not allowing themselves to get down as much or allowing themselves to get overly confident or too proud." Shymansky said. "They are willing to put in the dirty work." 
 
Iowa returns to the road Friday against Maryland (8-10, 0-6) and Saturday at Ohio State (12-6, 2-4).
 
"Winning on the road is so challenging in our league," Shymansky said.
 
Because of that, Shymansky said in some ways the 3-0 win at Northwestern was more beneficial to Hawkeyes than their victory over nationally ranked Purdue in Carver-Hawkeye Arena.
 
"It showed we could dominate on the road," Shymansky said of the 25-18, 25-16, 25-19 win over the Wildcats. "That level of determination and focus is the part that is most encouraging and confidence-building for us."
 
A large crowd is expected at Maryland, where the match will be contested in the Xfinity Center prior to the Terrapin basketball program's midnight madness event. Up to 15,000 spectators could attend.
 
"It will be a hostile environment that will challenge us in unique ways," Shymansky said. "We played extremely well against them here, but to be able to replicate that is very difficult."
 
The matches against Maryland and Ohio State begin at 5 p.m. (CT).