Hawkeye Fan Shop — A Black & Gold Store | 24 Hawkeyes to Watch 2016-17 | Hawk Talk Monthly — Oct. 2016 | Purchase Single-Game Tickets | Box Score (PDF) | Photo Gallery | Boxscore
IOWA CITY, Iowa –  A second half goal lifted No. 23 Northwestern to a 1-0 victory over the University of Iowa soccer team Thursday night at the Iowa Soccer Complex. 
"We're growing and maturing as the season goes on," said UI head coach Dave DiIanni. "We have gotten better with every single game we've played this year. I thought defensively we pressed them and made them a little uncomfortable. They are a good team, and we have a lot of respect for the coaching staff."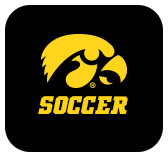 The Hawkeyes held off the Wildcats in the first half before Kim Jerantowski took advantage of a cross from Nikia Smith in the 56th minute to give Northwestern a 1-0 lead. The Wildcats have tallied four shutouts in the Big Ten. 
Unable to find the back of the net, seven Hawkeyes fired shots at Northwestern goalkeeper Lauren Clem. Morgan Kemerling and Corey Burns had two shots apiece on the night, the most on the Iowa lineup. 
Iowa finished with a 9-7 edge in shots for the game, with six being on goal. Goalkeeper Claire Graves recorded three saves in the 90 minutes. 
"I give credit to our team for how we made Northwestern play," added DiIanni. "We played well enough to win the game, we're still struggling defending the final ball. I am proud of our team though and what we've achieved so far. We will come out and get better tomorrow."
The Hawkeyes (7-9-0, 1-7-0) return to action Sunday facing Illinois at the Iowa Soccer Complex at 1 p.m. (CT) for their home finale.