Hawkeye Fan Shop — A Black & Gold Store | 24 Hawkeyes to Watch 2016-17 | Hawk Talk Monthly — October | Buy Wisconsin Tickets
Editor's Note: The following first appeared in the University of Iowa's Hawk Talk Daily, an e-newsletter that offers a daily look at the Iowa Hawkeyes, delivered free each morning to thousands of fans of the Hawkeyes worldwide. To receive daily news from the Iowa Hawkeyes, sign up HERE.
By DARREN MILLER
hawkeyesports.com
WEST LAFAYETTE, Ind. — In its three previous Big Ten Conference football games, the University of Iowa scored a combined seven points in the first quarter.
 
The Hawkeyes tripled that total yesterday against Purdue at Ross-Ade Stadium, putting together one of the most impressive first quarters in some time.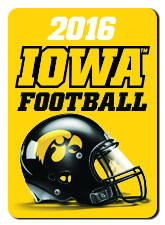 When the first 15 minutes ended, Iowa (5-2 overall, 3-1 Big Ten) held a 21-0 advantage and the extension of its road winning streak to nine seemed a foregone conclusion. The Hawkeyes went on to gain 520 total yards and win, 49-35.
 
"Being ready to play is an important thing," UI head coach Kirk Ferentz said. "That sounds basic and simple but that is what the week's preparation shows you and the maturity of the team. Hopefully they can come in focused. It is good to get off to a fast start and the guys built off that as we were going along."
 
Iowa scored on all three of its first quarter possessions, gaining 184 yards on 25 plays for an average of 7.4 yards per play. The Hawkeyes scored on a 1-yard run by LeShun Daniels, Jr., a 15-yard run by C.J. Beathard, and a 42-yard pass from Beathard to Riley McCarron.
 
The 8-play, 67-yard scoring drive to begin the game marked the first time Iowa scored on its opening possession since the season-opener against Miami (Ohio) on Sept. 3. The Hawkeyes also led that game 21-0 after 15 minutes.
 
It was the most lopsided first quarter for the Hawkeyes in Big Ten play since leading Northwestern 24-0 on Nov. 1, 2014.
 
"One of our emphasis' this week was getting off to a fast start offensively and we did that," Beathard said.
 
Iowa was 5-for-5 in third-down conversions in the first quarter and the impressive start turned into an impressive first half. The Hawkeyes led 35-7 at the break and gained 253 more yards than the Boilermakers. They extended their third-down success streak to seven in a row and held an edge in possession time by 7-minutes, 44-seconds.
 
"They were ready to go at kickoff which is important," Ferentz said. "We came out and played with good balance and efficiency. The team was business-like and played with good intensity. It's good to get another road victory. Road victories are tough, and in this conference they are never easy."
 
The Hawkeyes scored on 5-of-6 first-half possessions and every scoring drive had — as Ferentz likes to say — its "Kodak moments."
 
Scoring drive No. 1: Opens with a 28-yard run by Daniels and included a 22-yard reception to George Kittle. (Iowa's defense answers with a three-and-out).
 
Scoring drive No. 2: Akrum Wadley opens the series with three straight carries for 26 yards. It ends with Beathard running in from 15 yards, thanks to a great block in the end zone by Jay Scheel. (Iowa's defense answers with a three-and-out).
 
Scoring drive No. 3: McCarron scores on a 42-yard pass play. (Iowa's defense answers with a three-and-out).
 
Scoring drive No. 4: Jerminic Smith opens the series with a 45-yard run on a reverse after picking up a nice block from Beathard. Wadley had two carries for 19 yards during the 6-play, 80-yard scoring drive. The most precarious down-and-distance situation during the series was second-and-2.
 
Scoring drive No. 5: A 1-play, 75-yard drive with Wadley going the distance (thanks to another great block by Scheel) with a career-long rush giving him 138 yards on eight first-half attempts (An average of 17.3 yards per carry).
 
"Our guys do a good job of being focused on what we're trying to get done," Ferentz said. "It's a business-like atmosphere."
 
The Hawkeyes return home Oct. 22 to play Wisconsin (4-2, 1-2) with the Heartland Trophy at stake. Kickoff is set for 11 a.m. (CT). Iowa won last season in Madison, 10-6.