Hawkeye Fan Shop — A Black & Gold Store | 24 Hawkeyes to Watch 2016-17 | Hawkeyes in the NFL | Hawk Talk Monthly — Oct. 2016 | Buy Tickets | VIDEO — Sunday Conversation
By DARREN MILLER
hawkeyesports.com
 
IOWA CITY, Iowa — Negative is a positive with the University of Iowa football team this week.
 
X-rays on starters Cole Croston (offensive line), George Kittle (tight end), and Boone Myers (offensive line) were all negative, but it is still too early to tell if any or all will play Oct. 22 when the Hawkeyes host No. 10 Wisconsin at 11 a.m. (CT).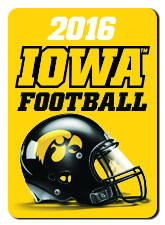 "It's a matter of how they're feeling," UI head coach Kirk Ferentz said Sunday during an exclusive interview with hawkeyesports.com. "You're always concerned when guys have sprains; hopefully we can get them to respond. I don't know if we'll have all three of them, but hopefully we'll have one or two of them ready to go."
 
Iowa (5-2 overall, 3-1 Big Ten) will try to extend its victory streak in traveling trophy games to seven Saturday with the Heartland Trophy on the line. The Hawkeyes won last year's game in Madison, Wisconsin, 10-6. The Badgers (4-2, 1-2) have dropped back-to-back games to Michigan and Ohio State by a combined 14 points.
 
"This is a great opportunity for our football team," Ferentz said. "This is what you hope for — a chance to play in a big game at home and an opportunity to play your best football. That's what it's going to take for us to get the job done."
 
While Iowa has won a school-record nine straight road games, the Hawkeyes are looking to return to their winning ways in Kinnick Stadium. The last two home games have resulted in losses to North Dakota State (23-21) and Northwestern (38-31). Ferentz said his team is "feeling better" than it was after the setback to the Wildcats.
 
"That was a tough defeat, but the guys learned from it and the last two weeks we have played better football with more intensity," Ferentz said.
 
Iowa was successful in accomplishing most of its goals during a 49-35 victory at Purdue: run the ball (365 yards), stop the run (46 yards), and win at third-down conversions. (The Hawkeyes converted 9-of-16 (and their first seven), while holding Purdue to 5-of-15).  
 
"The guys did a great job all week and prepared well Monday through Friday," Ferentz said. "They had a good focus and showed up at kickoff ready to go. I was pleased with the way we started; we got off to a fast start and that was something we emphasized going into the game."
 
To read about the Hawkeyes' quick start in West Lafayette, Indiana, on Oct. 15, click HERE.
A few tickets remain for Saturday's game against the Badgers and can be purchased on hawkeyesports.com. The game will be televised nationally on ESPN.