By DARREN MILLER
hawkeyesports.com
IOWA CITY, Iowa — Who would have thought a gold sticker placed on football helmets 31 years ago would continue to play an important role in the state of Iowa and beyond?
 
University of Iowa All-America tight end Dallas Clark was introduced Tuesday as the fifth former Hawkeye named to the America Needs Farmers (ANF) Wall of Honor. The ANF Plaza is in the northwest corner of Kinnick Stadium.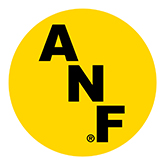 The ANF effort originated in the mid-1980s by former UI head football coach Hayden Fry to raise awareness of the importance of farming during a time when farmers faced severe financial stress. A gold ANF decal on the Hawkeye helmets is the effort's signature.
 
"(Coach Fry) did it because there was a need, a problem, and he was going to do something about it," Clark said in the All-American Room in the Stew and LeNore Hansen Football Performance Center. "He acted upon it with a little sticker. It got people asking questions, it got people familiar with the situation, and brought that attention with just a little sticker. Here we are 30 years later talking about that little sticker."
 
Clark, 37, walked onto the UI football program as a linebacker; he left as an All-American tight end. He grew up in Livermore, Iowa — a rural community 12 miles north of Humboldt and didn't farm, but had family that did.
 
Clark joins Casey Wiegmann (2012), Jared DeVries (2013), Bruce Nelson (2014), and Robert Gallery (2015) as an ANF Wall of Honor recipient.
 
"Farming and football are huge part of Iowa's DNA," said Charlie Taylor, associate athletics director, strategic communications and marketing at the UI.
 
Fry understood what the farm crisis meant to his fan base — and recruiting base. Farm boys like Hap Peterson and Mike Haight played for Fry in the game at Ohio State on Nov. 2, 1985, when the ANF sticker was first used.
 
"Hayden cared enough not only about what football was about, he cared about the state of Iowa," said Denny Presnall, executive director of the Iowa Farm Bureau Federation. "He understood what farm families were going through and what was happening in rural Iowa towns."
 
Presnall introduced Clark as not just a great football player, but a "great man of great character."
 
For Clark, making another trip from his home in Livermore, Iowa, to Iowa City was welcomed.
 
"Give me any reason to come back to Iowa City and I'll come back," Clark said. "It is dear to my heart. You combine what Farm Bureau is doing and you combine the Hawkeye family and I can't be more honored to be recognized by those two organizations."
 
Clark was selected by Indianapolis with the 24th pick of the first round in the 2003 NFL Draft. He played 11 seasons as a professional — nine with the Colts — catching 505 passes for 5,665 yards and 53 touchdowns. An All-Pro, Clark was a starter in the Colts' Super Bowl victory over Chicago in 2007.
 
After professional football, he returned to Iowa and bought his family's century farm. Now a "hobby farmer," Clark is learning the vocation while he eventually uses the farm's 135 tillable acres to grow organic corn and beans.
 
"I'm finding my niche and custom farming," Clark said. "I'm in the game, but it's not like I'm having a full-fledged operation. It attracted me, I love being outside and manual labor. It became more attractive."
 
Clark will be recognized on-field Saturday during Iowa's football game against No. 10 Wisconsin. Kickoff is set for 11 a.m. (CT).