Hawkeye Fan Shop — A Black & Gold Store | 24 Hawkeyes to Watch 2016-17 | Hawkeyes in the NFL | Hawk Talk Monthly — Oct. 2016 | Ferentz Transcript (PDF) | Photo Gallery
By JAMES ALLAN
hawkeyesports.com
IOWA CITY, Iowa — Saturday's battle for the Heartland Trophy will be about staying the course for the University of Iowa football team in a key Big Ten West Division matchup.
 
The Hawkeyes host 10th-ranked Wisconsin at 11 a.m. (CT) inside Kinnick Stadium.  Iowa has won two straight games and is 5-2 overall and 3-1 in Big Ten action; the Badgers are 4-2, 1-2.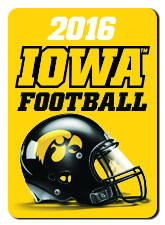 "They're an outstanding opponent, top 10 team, and are worthy of that," UI head coach Kirk Ferentz said at his Tuesday news conference in the Stew and LeNore Football Performance Center. "They're a good football team. We have a big challenge on our hands.
 
"They're tough to play in Madison, they're tough to play in Kinnick.  No matter where they go, they play well and that's the sign of a good team."
 
Wisconsin resides in the top 10 of both The Associated Press and Amway Coaches Polls despite entering the weekend on a two-game losing streak, albeit to two top-five ranked foes. The Badgers fell 14-7 at No. 4 Michigan on Oct. 1 before losing in overtime at home against No. 2 Ohio State, 30-23, on Oct. 15.
 
"These guys are playing good football," said Ferentz. "A lot was said about their schedule heading into the season and they have taken each game one step at a time."
 
The Iowa-Wisconsin series has been a toss-up in 89 all-time encounters with the Badgers leading the series 44-43-2.  In 10 meetings since the Heartland Trophy was introduced, the series is tied 5-5 with five of those games being decided by a single possession.
 
"Most of these games have been pretty close and hotly contested," said Ferentz. "In games like these little things are going to matter and they're good at little things. If we are going to want to be in this game, we are going to have to do that a little better, too, and be detailed because it's going to be tough."
 
Wisconsin's defense ranks No. 9 in the nation in scoring defense, allowing 15.2 points per game.  The Badgers, who also rank 12th in total defense (311.3 yards), have surrendered just eight touchdowns in six games.
 
"They're good and disruptive defensively," said Ferentz of a Wisconsin defensive unit that has 17 sacks, 34 tackles for loss, and eight interceptions. "We have to weather that and fight through it."
 
The Hawkeyes are coming off a game where they accumulated a season-high 520 yards and 49 points in 49-35 road victory at Purdue.  On Saturday, Iowa must stay the course from an intensity standpoint throughout the game.
 
"That's what this game will be all about in my opinion unless the ceiling comes in," said Ferentz. "We've been historically in a lot of games like this where you never know what's going to happen.
  
"In big games, you never know what play (could turn the game's momentum); it might be on special teams, offense, or defense.  It might be something subtle."
 
On the injury front, Ferentz isn't counting anybody out for Saturday's matchup. He says senior offensive linemen Cole Croston and Boone Myers both have a chance to play.  Senior tight end George Kittle will be evaluated over the course of the week.
 
"It will depend on what (George) can do, how he can progress in the next couple of days," said Ferentz. "We're not going to rule him out, but it's probably a longshot.
 
"Anytime a guy gets hurt you have to prepare like he's not going to play, but if he can play, we'll play him. We've done that before; that's not unheard of if he can play. He has to be able to play effectively."
 
Kittle has 17 catches for 280 yards and two touchdowns in seven games.  Junior walk-on Peter Pekar — a Wisconsin native — redshirt freshman Nate Wieting and freshman Noah Fant are Iowa's next men in at the tight end position.
 
A limited number of "singles" are available for purchase for Saturday's game through the UI Athletics Ticket Office.  Fans can purchase online at hawkeyesports.com or by calling 800-IA-HAWKS.