Hawkeye Fan Shop — A Black & Gold Store | 24 Hawkeyes to Watch 2016-17 | KinnickEdge.org | Honorary Captain: Bryan Bulaga | Honorary Captain: Marvin Lampkin | Honorary Captain: Dave Haight | Honorary Captain: Dan McCarney
By DARREN MILLER
hawkeyesports.com
IOWA CITY, Iowa — An undersized underdog motivated the University of Iowa football team on the eve of its nationally televised game against No. 10 Wisconsin on Oct. 22 in Kinnick Stadium.
 
Mitch King came to the Hawkeyes from Burlington (Iowa) High School as a 6-foot-3, 230-pound linebacker. Before the 2005 season, UI head coach Kirk Ferentz moved him to defensive tackle, where his lack of stereotypical defensive lineman bulk didn't keep him from dominating and being around the ball play after play.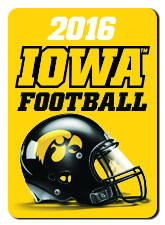 "Coach Ferentz did not give me the option to move to D-line, but it was one of the best and worst days wrapped into one," King told the Hawkeyes. "It allowed me to channel what I was good at and that was downhill, smash-mouth football."
 
King was named Big Ten Conference Defensive Lineman of the Year in 2008. He finished his career with 228 tackles.
 
Ironically, the opponent that motivated King most was Wisconsin. Iowa was 2-2 against the Badgers during King's playing career with a 20-10 victory for the Hawkeyes in Madison in 2005 and a 38-16 win for the Hawkeyes in Iowa City in 2008. He was named Big Ten Conference Defensive Player of the Week following the win in 2005.
 
"I always had (the Wisconsin game) starred on my calendar," King said. "I don't know why I enjoyed playing Wisconsin. Maybe it was them thinking they could block me one-on-one. We are very similar — we know what we're going to get when we play Wisconsin, they know what they are going to get when they play Iowa. It is smash-mouth from play one to play 100. That's what I love about it. That's what thrilled me, was to play smash-mouth football and watching guys quit across the line of scrimmage."
 
King lives in Iowa City's Manville Heights neighborhood. He owns a property management company, investing in and managing commercial and residential real estate. Four years ago King started The Extra Heartbeat Foundation, a nonprofit that hosts charity events and football camps with all money donated for scholarships.
 
King said lessons he learned playing football for the Hawkeyes drive him today in his personal and business lives.
 
"I never followed college football growing up," King said. "When I came here, (the University of Iowa) was just a school. I knew I wanted to be here, I knew this was the place for me, but I didn't grow up a Hawkeye. Being here for five years with coach Ferentz and these coaches and my teammates made me a Hawkeye for life."
 
King told the current players to maximize their effort because time waits for no one.
 
"You are the only person that is going to measure your effort," King said. "Don't cheat yourself, don't lie to yourself. Don't wait to be that leader, don't wait to maximize your time and chances here, because it runs out."
 
Iowa (5-2 overall, 3-1 Big Ten) hosts Wisconsin (4-2, 1-2) with the traveling Heartland Trophy at stake. King reminded players not to listen to anyone who says they are not favored to win Saturday.
 
"Being an underdog is what I've thrived on, proving people wrong," King said. "Showing people maybe you didn't think we could do it, but we're going to come in, smack everybody in the mouth, and we're going to walk out with that trophy Saturday."
 
King will accompany the Iowa captains to the center of the field for Saturday's pregame coin toss. He will also be with the Hawkeyes in the locker room before and after the game.