IOWA CITY, Iowa — University of Iowa senior defensive back Desmond King is one of 19 quarterfinalists for the 2016 Lott IMPACT Trophy.  The announcement was made Monday by the Pacific Club IMPACT Foundation. 
The Lott IMKPACT Trophy winner will be announced live on FOX Sports on Sunday, Dec. 11 at 7 p.m. PST.  IMPACT is an acronym for Integrity, Maturity, Performance, Academics, Community and Tenacity.  Iowa linebacker James Morris was a finalist for the award in 2013.
 
King (5-foot-11, 200-pounds) is also a semifinalist for the 2016 Jim Thorpe Award.  King was the recipient of the Thorpe Award in 2015 following his junior season.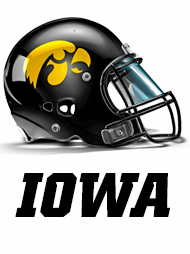 King has started all eight games at cornerback in 2016 and has 46 career starts.  This season he has recorded 26 solo tackles and 15 assists, leads Iowa with six pass break-ups, and had a 41-yard interception return for a touchdown in a win at Purdue.
 
King, a native of Detroit, also leads Iowa's special teams through eight games.  He is averaging 32 yards per kickoff return to rank sixth in the nation.  He is also averaging 9.2 yards on punt returns.  King had a career-best 77-yard kickoff return last weekend against Wisconsin.
 
In 2015, King tied the Iowa single-season record and ranked second in the country with eight interceptions, while recording 72 tackles and a team-high 13 pass breakups.  He averaged 14.2 yards on 17 punt returns and 24.4 yards on 29 kickoff returns.
 
King was named a unanimous consensus All-American in 2015, was the recipient of the Jack Tatum Award and was named the Tatum-Woodson Big Ten Conference Defensive Back of the Year.  King was one of five finalists for the Walter Camp Player of the Year Award, and was Iowa's Most Valuable Player on defense.
 
The Lott IMPACT Trophy was founded in 2004, and is named after College and Pro Football Hall of Fame member Ronnie Lott.  The quarterfinalists include nine linebackers, seven defensive backs, and three defensive linemen.
 
A semifinal list will be announced on Wednesday, Nov. 9, with four finalists being announced on Wednesday, Nov. 30.  Each school of the four finalists will receive $5,000 for their general scholarship fund, while the school of the winner will receive $25,000.
 
The Pacific Club IMPACT Foundation has donated more than $1.2 million to various charities throughout the country.