Hawkeye Fan Shop — A Black & Gold Store | 24 Hawkeyes to Watch 2016-17 | Buy Women's Basketball Tickets | Media Day Photo Gallery | Coach Bluder Transcript PDF | VIDEO — Ally Disterhoft
Editor's Note: The following first appeared in the University of Iowa's Hawk Talk Daily, an e-newsletter that offers a daily look at the Iowa Hawkeyes, delivered free each morning to thousands of fans of the Hawkeyes worldwide. To receive daily news from the Iowa Hawkeyes, sign up HERE.
By DARREN MILLER
hawkeyesports.com
IOWA CITY, Iowa — Becoming a member of the women's basketball program at the University of Iowa allowed Ally Disterhoft to remain in her hometown four years after graduating from Iowa City (Iowa) West High School.
 
The first-rate education and experience she received at the university led her to accept a fulltime internship before dribbling a basketball on Mediacom Court for her final season.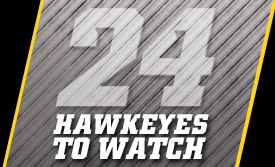 Apologies to the WNBA, but next year at this time Disterhoft will be employed by Barclays Investment Bank in New York City. That opportunity comes a year after she spent the summer of 2016 working for PricewaterhouseCoopers in Chicago.
 
Talk about scholar-athlete.
 
Disterhoft's resume could fill several sheets of paper. In 2016 alone: second-team All-Big Ten, CoSIDA Academic All-American of the Year, first-team CoSIDA Capital One Academic All-American, Academic All-Big Ten, and Big Ten Sportsmanship Award.
 
Even though Disterhoft knows her immediate post-college plans, she is fully invested in making the 2016-17 season great.
 
"The same passion is there (for basketball) that was there my freshman year," Disterhoft said. "I don't think anything can compare to college basketball and that experience — a group of girls who are playing together for the love of the game, for fun, because they love each other, and they want to win. You can't replicate that after college.
 
"Everyone reaches a point in their life where there will be that crossroads. Do I continue with this — something that has given me so much — or do I go for something new that I am passionate about?"
 
Whatever stressors affect college seniors, finding a job isn't one that will trouble Disterhoft.
 
"Having a job before her senior year begins is a relief for Ally and shows what a marketable student-athlete she is," UI head coach Lisa Bluder said. "This is a place Ally always wanted to live. I'm excited for her and we're going to connect her with some New York City Hawkeyes before she heads out there."
 
Before Disterhoft handles the hassles of the Big Apple, she will once again take on the demanding Big Ten Conference. She is 11th on Iowa's career scoring list with 1,542 points in 103 games (15.0 points per game) and has reached double figures in scoring in 78 of her 84 career starts. The Hawkeyes are 58-26 with Disterhoft in the starting lineup.
 
As a junior in 2015-16, Disterhoft scored 565 points and averaged 17.1 points per game, the fifth-best single-season point total in school history. She is 518 points from eclipsing the school record career total of 2,059 set by Cindy Haugejorde from 1976-80.
 "The same passion is there (for basketball) that was there my freshman year. I don't think anything can compare to college basketball and that experience — a group of girls who are playing together for the love of the game, for fun, because they love each other, and they want to win. You can't replicate that after college." — Ally Disterhoft, UI senior
"It would be a culmination of hard work. I haven't gotten to this point alone, my teammates have been huge and incredible," Disterhoft said. "I came to Iowa with a goal to be one of the best Hawkeyes ever. I knew that would take hard work and things falling into place, but to think that is within reach is awesome."
 
Disterhoft puts wins before points. That's what made the 2015-16 season a bummer for her and the Hawkeyes. Despite winning 19 games and three of their last four of the regular season, Iowa was not invited to the NCAA Tournament for the first time since 2007. The Hawkeyes lost to Ball State at home in the first round of the WNIT.
 
"It was disappointing. A lot of people, including myself, our coaches, and team had higher expectations and we didn't reach those goals," Disterhoft said. "It is still a sore subject that nags at you, but our team has done a great job of turning that page. We have an opportunity to have a great year. It is remembering what last year felt like because we hadn't experienced that before and moving forward the best we can."
 
However far or quickly the Hawkeyes accelerate will depend on leadership, especially from seniors Disterhoft, Alexa Kastanek, and Hailey Schneden.
 
"I want to help our team be the best it can be," Disterhoft said. "It is about making my teammates better, leading the team as best I can, and helping our team get to where we know we can be."
 
How driven are the Hawkeyes? At 9:30 on a recent Sunday evening, Disterhoft went to Carver-Hawkeye Arena to put up shots in the practice gym. When she arrived, freshman Alexis Sevillian was already there. Whether you call it chemistry or buying in, Disterhoft says this group of Hawkeyes has it.
 
"You walk into practice and people are out there 45 minutes early shooting. It is commitment," Disterhoft said. "You can see it and feel it this year. The freshmen bring a ton of energy and I think that is contagious. That's why I'm excited about this year and why I think we can do great things."
 
Disterhoft was named honorable-mention All-Big Ten and to the All-Freshman team in 2014. She was second-team All-Big Ten in 2015 and 2016. She has been in Iowa's starting lineup 84 consecutive times.
 
"Ally is very driven, she isn't somebody I have to work hard to motivate," Bluder said. "She is not somebody I have to hold accountable as far as being in the gym and getting extra shots in. She is going to do that herself. She is a high achiever and knows that will bring results.
 
"It is easy to coach her because she is going to work hard every possession, she is going work extra and be in the gym early and late. She is a leader by her example. The work-ethic is amazing and then what you have to do extra outside of practice to be successful, she is a great example for us."
 
The Hawkeyes open the season with an exhibition against Lewis University on Nov. 6. The regular season officially tips off against Oral Roberts on Nov. 11 inside Carver-Hawkeye Arena.
 
"The ultimate goal is always to get back to the NCAA Tournament and win a Big Ten championship," Disterhoft said.