Hawkeye Fan Shop — A Black & Gold Store | 24 Hawkeyes to Watch 2016-17 | Hawk Talk Monthly — October | Buy Women's Basketball Tickets | Media Day Photo Gallery | Coach Bluder Transcript PDF
By DARREN MILLER
hawkeyesports.com
 
IOWA CITY, Iowa — You know expectations are high when talk is about rebounding from a 19-win season. Yes, expectations are high for the University of Iowa women's basketball program.
 
Every year from 2008-15, Iowa had finished its season in the NCAA Championships. A year ago — after winning 19 times — the Hawkeyes were left out of the Big Dance…and it stung.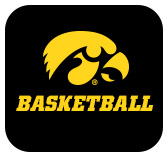 Lisa Bluder, who is in her 17th year as Iowa's head coach, relishes the opportunity for her program to surge again.
 
"Not making the NCAA Tournament was motivating for our staff and I believe for our players as well," Bluder said. "Athletics is all about rising up from failure and this shows what we are, because we were excited to get back in the gym. We are extremely motivated to start a new streak."
 
When the Hawkeyes rise again, it won't be from ashes — in the past nine seasons they have averaged 21.8 victories per season. But to Bluder and her staff, a 19-14 record isn't on par after winning 27 times in 2013-14 and 26 times in 2014-15.
 
There are many programs that would celebrate after winning 19 times while starting a junior, two sophomores, and two freshmen like Iowa did last season. When Bluder looks at it that way, her disappointment turns to pride.
 
"I'm proud of what we started last year, now I want to get back on a streak this year," Bluder said.
 
Iowa closed the 2015-16 regular season by winning 3-of-4 games and then opened the Big Ten Tournament with a 97-85 victory over Michigan. In a quarterfinal matchup, the Hawkeyes jumped to a 10-point first-quarter lead before falling to eventual Big Ten champion and a 31-win Maryland team. Iowa ended its season with a 77-72 loss at home to Ball State in the WNIT.
 
"It wasn't because of lack of effort, it was that we were really inexperienced," Bluder said. "That gives us so much excitement about this year, because we gained good experience last year."
 
Iowa's top three scorers return, led by senior Ally Disterhoft, who is 518 points from becoming the most prolific scorer in school history. Disterhoft totaled 565 points last season and averaged 17.1 points in 33 games (she has 1,542 career points). Junior Chase Coley averaged 11.1 points and 5.9 rebounds and sophomore Megan Gustafson averaged 10.7 points and a team-high 6.8 rebounds.
 
Other returners with starting experience are sophomore Tania Davis (8.1 points, 3.4 assists per game) and senior Alexa Kastanek (8.0 points, 1.7 3-point field goals per game).
 
"I see experience and confidence in those returners, kids like Tania and Megan who a year ago had never played in a Big Ten game and now they are confident," Bluder said. "Ally of course as the senior leader, is doing a great job, but we have multiple leaders."
 
Disterhoft was second-team All-Big Ten last season and Davis and Gustafson were named to the league's All-Freshman team.
 
Bluder signed another enthusiastic freshman class that is pushing everyone ahead of them on the depth chart. The group of five freshmen is ranked No. 7 in the nation by Blue Star Basketball — the highest ever for Bluder and her staff.
 
"I love that," Bluder said. "I would not put it past them to contribute right away. Last year we had two freshmen who were big-time contributors. I see the same thing happening this year."
 
Iowa opens the season Nov. 6 against Lewis University. The 2016-17 schedule includes double conference games against Maryland, Rutgers, and Illinois, as well as back-to-back-to-back marquee nonconference home games against Notre Dame, Northern Iowa, and Iowa State.
 
"We have a lot of great, must-see games," Bluder said. "I love the in-state rivalries and every Big Ten game you are on the edge of your seat."