Hawkeye Fan Shop — A Black & Gold Store | 24 Hawkeyes to Watch 2016-17 | Hawkeyes in the NFL | Hawk Talk Monthly — Oct. 2016
Editor's Note: The following first appeared in the University of Iowa's Hawk Talk Daily, an e-newsletter that offers a daily look at the Iowa Hawkeyes, delivered free each morning to thousands of fans of the Hawkeyes worldwide. To receive daily news from the Iowa Hawkeyes, sign up HERE.
By DARREN MILLER
hawkeyesports.com
IOWA CITY, Iowa — This is a bye week, but Iowa's football team isn't idle.
 
"Our whole goal was to recharge a little bit and still move forward," UI head coach Kirk Ferentz said Wednesday. "Some of the players we've tried to rest a little bit and limit their activity and contact. Other guys with a lower pitch count, we're working them harder and want to see if we couldn't push them forward and see if we can find some guys who can add to the cause as we move forward."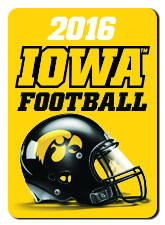 Players like tight end George Kittle, offensive tackle Boone Myers, and defensive tackle Nathan Bazata are getting treatments with the hope of getting back on the field at Penn State on Nov. 5. Other guys, like wide receiver Adrian Falconer, linebacker Amani Jones, defensive tackle Cedrick Lattimore, and cornerback Manny Rugamba have shown signs of breaking into the playing rotation.
 
The Hawkeyes have gone to split practices this week. The starters go through their work, then shower and return to the field to cheer on and encourage the second- and third-team players.
 
"We're looking forward to the next push," defensive coordinator Phil Parker said.
 
Iowa is 5-3 overall and 3-2 in the Big Ten Conference. Coming off a 12-0 regular season, the 2016 campaign is a reminder of the fine line between winning and losing.
 
The losses have been by two, seven, and eight points.
 
"We're doing some things better," Ferentz said, pointing out improved rush defense the last three weeks as one example. "Our goal is going to win these next four games. It may not be realistic. We'll know that at the end of the season. But that's going to be our goal. Just like last year, our goal is to win every game."
 
After allowing North Dakota State, Rutgers, and Northwestern to rush for at least 193 yards, Iowa has allowed the last three opponents an average of just 105 yards.
 
"We went back to the basics and stayed with it," Parker said. "Guys became better. We had better preparation. Better energy."
 
Parker said the energy and tempo on the defensive side of the ball the week of the Minnesota game (Oct. 8) was much improved, and that has carried over to the field of play.
 
"There's where I think we kind of got our edge back," Parker said.
 
Parker likes the vibe around his defensive unit as they prepare for the stretch run.
 
"I like the toughness the guys are playing with," Parker said. "I like the excitement and energy and the way they're going about things on the field. I don't think they've given up. They think they can win every game."
 
Iowa's offense has struggled to find consistency all season. The Hawkeyes are rock solid in the red zone, where they've scored on 25 of 27 trips, but Iowa is converting on just 37 percent of its third-down conversions. Many of them have been third-and-long situations, brought on by penalties or sacks.
 
Iowa has allowed 19 sacks this season and been penalized 45 times, 10 flags more than its opponents.
 
"If you go back and look, we had a rash of penalties about game five and six where we were always playing off schedule," Davis said. "We're not built to play off schedule. We're built to play hard-nosed, run football. If we can keep third down in the 4- to 6- to 7-yard area, then we've got a great opportunity to convert. But when we get a penalty or a negative play, we have a hard time converting."
 
Davis said quarterback C.J. Beathard had a chemistry with departed receivers Tevaun Smith and Henry Krieger Coble, now on NFL rosters, as well as Matt VandeBerg, who injured his foot the week before the Oct. 1 Northwestern game and hasn't seen the field since. He had 19 catches in the first four games.
 
"He (Beathard) had a great chemistry with those guys," Davis said. "Right now we don't have the same chemistry. Especially when it comes to pushing it down the field."
Kittle, another of Beathard's go-to guys, saw limited duty against Wisconsin after getting injured the week before at Purdue.
 
Running back Akrum Wadley was the leading receiver against the Badgers, making seven catches for 72 yards.
 
During the bye week, Davis said the coaches are looking for ways to get both Wadley and running back LeShun Daniels, Jr., on the field at the same time. Wadley has rushed for 636 yards this season, and Daniels is close behind at 624. They've combined for 14 touchdowns.
 
"When we lost Matt it had a ripple effect," Davis said.
 
McCarron moved from outside to the slot position, where he has caught a team-high 30 passes.
"He's done a good job as a slot receiver," Davis said. "That's a real important spot for us, but we have not had as much production with the outside part as we need."
 
One player who has stepped up during the bye week is Falconer, a sophomore from Leesburg, Fla.
 
"This week he has done a few things," Davis said. "Hopefully, he'll continue to step forward at the wide receiver spot."
 
Parker has also seen some players emerge during the bye week. One of them is Jones, a true freshman from Chicago.
 
"That's another guy who is probably going to help us out in the next few weeks," Parker said.
 
Also coming on has been Lattimore, also a true freshman.
  
"We're excited about what we've seen in the last three days of practice," Parker said.
 
Rugamba, a true freshman as well, has seen action in Iowa's third-down package. His ability to get a feel for what Iowa does on first and second downs will get him extended playing time on defense.
 
"He's a dynamic guy," Parker said.