Hawkeye Fan Shop — A Black & Gold Store | 24 Hawkeyes to Watch 2016-17 | Hawk Talk Monthly — Nov. 2016 | Buy Women's Basketball Tickets
Editor's Note: The following first appeared in the University of Iowa's Hawk Talk Daily, an e-newsletter that offers a daily look at the Iowa Hawkeyes, delivered free each morning to thousands of fans of the Hawkeyes worldwide. To receive daily news from the Iowa Hawkeyes, sign up HERE.
By RICK BROWN
hawkeyesports.com
IOWA CITY, Iowa — Megan Gustafson is taking an old-school approach to her sophomore season at the University of Iowa by dusting off a forgotten shot. The hook shot.
 
"It's another option we can go to," said Gustafson, a 6-foot-3 center, who led the Hawkeyes in rebounding and field-goal percentage last season while making the Big Ten All-Big Ten Freshman team. "It's hard to guard."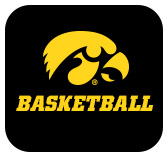 Iowa associate head coach Jan Jensen suggested the shot during the offseason.
 
"Sometimes when the double-team comes, it's hard for her to square up," Jensen said. "She's the one kid in a long time where I thought, 'Hey, we could do something with this. It's unstoppable. I don't know why people don't do it more.'"
 
UI head coach Lisa Bluder can't remember the last time one of her players used a hook shot.
 
"Megan was excited to learn it," Bluder said. "Coach Jensen motivated her to learn it. At 6-3, she's smaller than a lot of the kids she goes against. A hook shot is still a good, old-fashioned hard thing to defend, and block."
 
Iowa point guard Tania Davis was also named to the Big Ten All-Freshman team last season. And like Gustafson, she's ready to take her game to the next level after gaining valuable experience as a rookie.
 
"The game was completely different from high school or AAU ball," said Davis, who averaged 8.1 points and logged a team-best 111 assists last season. "It was a lot faster, more physical. It took a lot of getting used to. Now with that experience, I think I have it."
 
Davis and Gustafson, who averaged 10.7 points and 6.8 rebounds, while shooting 55.4 percent from the field as a freshman, are two reasons why Iowa women's basketball has such a bright future.
 
"Megan is stronger and ready to make a jump this year," Bluder said. "She never really lifted weights until she got to our campus. Then to go into a freshman season in the Big Ten and battle against some of the strongest women in our conference, that's a tall task. She knows what she's up against and had a year to improve her strength."
 
In Davis, Bluder sees a player ready to take control of her team.
"She's taking ownership of this team, and it's fun to see that develop," Bluder said. "She knows she's our point guard, is the leader on the court, and she is owning that. I love the attitude she has on the court right now."
 
Davis accepts the ownership thing, with one exception.
 
"First of all, it's Ally's team," Davis said of guard Ally Disterhoft, a senior and the top returning scorer on a team that has four sophomores and five freshmen fighting to get in Bluder's rotation. "When I'm on the court I'm controlling the team. I'm the captain out there. It feels like I've taken ownership of this team."
 
Davis spent the summer on the sidelines to rest her left shoulder. She's still finding her rhythm as she catches up in practices. She used the power of observation over the summer to watch and listen to what the coaches were teaching her teammates.
 
"I've grown tremendously just by sitting out this summer," Davis said.
 
Iowa finished 19-14 overall and 8-10 in Big Ten play last season, and lost eight of its last 13 regular-season games. The Hawkeyes missed the NCAA Tournament for the first time since 2006-07.
 
"We did not like the way the season ended last year," Davis said. "We've picked up our defensive intensity. We have a lot of offensive contributors now, so we're ready to go."
 
Davis quickly established herself as a defensive stopper last season. She hopes to display improved accuracy from 3-point distance (26.3 percent) on offense.
 
"Making the Big Ten All-Freshman team is a sample of what I can do, and who I can become," Davis said. "Last year was a preview, a glimpse. This year I've added more to my game. I'm excited to showcase that."
 
That All-Big Ten recognition serves as a motivator for Gustafson.
 
"What can I do next to improve and get better?" Gustafson said.
 
Improved strength, for one. That starts with better, more consistent footwork on the post. After a summer of jumping rope, mobility work and hitting the weights, Gustafson sees progress on the court.
 
"Last year was a little bit of a shocker," Gustafson said. "I had never played against strong girls before, but I've gotten a lot stronger."
 
Gustafson also spent a good share of the offseason at the free-throw line, working to improve her 61.5 percent mark of a year ago. And don't forget that hook shot — a shot Gustafson plans to use.
"She has worked enough on it that we'll see it," Jensen said. "There's going to be no one who's going to jumper higher, with a fist pump, than myself."