Hawkeyes in the NFL | Hawk Talk Monthly — Nov. 2016 | 24 Hawkeyes to Watch | Freshman Profile: Cedrick Lattimore | A Defining November | King Namede Semifinalist for Bednarik Award
By DARREN MILLER
hawkeyesports.com
 
STATE COLLEGE, Pa. — The University of Iowa's run defense has shown progress the last three games. It will be tested Saturday by Penn State sophomore running back Saquon Barkley, the reigning Big Ten Conference Offensive Player of the Week.
 
Barkley, who in the last three games has rushed for 202, 99, and 207 yards, leads all Big Ten players with an average of 126 rushing yards in five league games and an average of 111 yards in eight total games.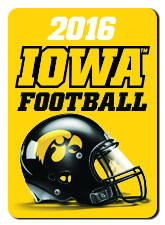 "It is a challenge. We have to step up to the plate and seize the opportunity," UI senior cornerback Desmond King said. "We're going to play against a great athlete and we know we have a great opportunity."
 
In the sixth week at Minnesota, the Hawkeyes allowed 102 rushing yards on 29 carries. The next week at Purdue they held the Boilermakers to 46 yards in 22 attempts. Through three quarters Oct. 22, Wisconsin ran for 93 yards on 33 carries.
 
The next challenge is a Nittany Lion offense that compiled 372 yards against Maryland and 257 against Purdue.
 
"They have good players; we're going to have to play sound football like any other game," UI junior linebacker Josey Jewell said. "We have to focus on (Barkley) because he is a good player; they have several of them, so we have to stay focused on assignments."
 
Barkley's impressive 2016 is a continuation of a freshman season when he ran for 1,076 yards and seven touchdowns and caught 20 passes with a touchdown. This season he has rushed for 888 yards and 10 touchdowns and caught 14 passes for another score.
 
The rest of Penn State's team has combined for 404 rushing yards and nine touchdowns.
 
"It will come down to tackling, being in the right position in our run fits, wrapping up, grabbing cloth, running through it, and getting all 11 hats to the ball," said UI sophomore defensive end Parker Hesse. "We have to be on top of things, tackle (Barkley), and bring him to the ground."
 
While Barkley has averaged 169.3 yards in his last three games, in the three before against Temple, Michigan, and Minnesota he averaged 63.3 yards.
 
"The guy is a good player. He played well last year and he's playing better now," UI head coach Kirk Ferentz said. "He's tough, strong, and he can run."
 
Twenty-five of Barkley's 63 yards against Minnesota came on a touchdown in overtime that gave Penn State a 29-26 victory.
 
"You might think you have him, it looked like Minnesota had him contained. Not bottled up, but contained," Ferentz said. "Then, boom, he makes the biggest play of the game. That's what great players do. They have you on edge every play of the game. We've faced some backs like that, and it is tough duty."
 
Still, the Hawkeyes are ninth in the Big Ten in rushing offense with an average of 167.9 yards in eight games. Penn State is 12th at 161.5 yards a game.
 
Iowa has won nine consecutive road games and Penn State is 5-0 this season at Beaver Stadium after winning 6-of-7 there in 2015.
 
"November is what defines the team you are," King said. "Who can last throughout the season? We have a four-week season and we want to finish strong. (Coach Ferentz) wants us to stay focused and play our hearts out these last four weeks."