Hawkeye Fan Shop — A Black & Gold Store | 24 Hawkeyes to Watch 2016-17 | Hawk Talk Monthly — Nov. 2016 | Buy Women's Basketball Tickets
By DARREN MILLER
hawkeyesports.com
IOWA CITY, Iowa — Bold and confident described the on-court demeanor of then-freshman University of Iowa point guard Tania Davis.
 
"Off the court I may have been a little bit of a baby," she confessed.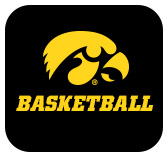 But that hesitant approach is a thing of the past. Hawkeye women's basketball fans will see a bold, confident, and vocal Davis on and off the court this season as her leadership role grows.
 
"I speak up a lot more than I did last year," Davis said Oct. 26 at media day in Carver-Hawkeye Arena. "There were a lot of times I wanted to say something but I didn't because I didn't know if coach (Lisa) Bluder would agree, if Ally (Disterhoft) would agree, or Kali (Peschel) would agree."
 
Still, Davis "quietly" turned in an exciting first season, averaging 8.1 points in 33 games (16 starts). She handed out 111 assists, joining Samantha Logic (136) as the only Hawkeye freshman to compile more than 100 assists in a season.
 
Since the college game is faster and more physical than high school, staying consistent is a challenge for any freshman, including Davis.
 
"Tania had a tendency to take plays off, kind of relax a little bit," UI head coach Lisa Bluder said. "She's not taking plays off anymore and ultimately that's going to make her a better player."
 
The only off-season hiccup for Davis was surgery on her left shoulder, keeping her out most of the summer. A right-handed shooter, Davis still made daily trips to the gym to launch 300, 500, 1,000 shots in an attempt to become more of an outside threat. Last season Davis made 96-of-238 field goals (40.3 percent) and 21-of-80 3-pointers (26.3 percent).
 
"Offensively I'm definitely better. The outside game has improved," Davis said. "Defensively I have picked it up and taken more pride in who I'm guarding. I'm speaking up a lot more than last year and not being afraid to speak what is on my mind."
 
Davis led Iowa in scoring twice last season with 12 points against Tennessee-Martin and 16 at Michigan State. The native of Grand Blanc, Michigan, excelled against her home state Spartans and Wolverines, scoring a career-high 18 points against Michigan in January and handing out 10 assists against the Wolverines in March. In three games against Michigan and two against Michigan State, Davis averaged 12.8 points and 5.0 assists.
 
The Hawkeyes finished 19-14 last season and hosted a first-round game in the WNIT. Returning seniors Disterhoft, Alexa Kastanek, and Hailey Schneden are unquestionably the leaders, but Bluder said Davis is growing in that category as well.
 
"Tania has made a significant jump. She's taking ownership of this team and it's fun to see that develop," Bluder said. "She knows she's our point guard. She knows she's the leader on the court, and she's owning that. I love that attitude that she has out on the court right now."
 
Iowa opens the season Nov. 6 with an exhibition game against Lewis University from Romeoville, Illinois. The first regular-season game is Nov. 11 against Oral Roberts.