Hawkeye Fan Shop — A Black & Gold Store | 24 Hawkeyes to Watch 2016-17 | Hawk Talk Monthly — Nov. 2016 | Photo Gallery | Men's Results (PDF) | Women's Results (PDF)
IOWA CITY, Iowa — The University of Iowa men's and women's cross country teams finished the 2016 season on a high note at the NCAA Midwest Regional on Friday morning.
 
Running on their home course, the Iowa women placed 17th (452) overall and the men recorded an 11th (351) place finish in their final race of the season. The women ran their sixth 6,000-meter race of the year while the men stepped their distance up to 10,000-meters for the first time.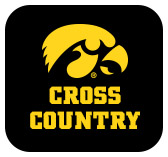 "We had a distance today that was very favorable to our top runners," UI head coach Randy Hasenbank said. "Going 10,000-meters is really good for Ben Anderson, Anthony Gregorio, and Ian Eklin. Those guys are really good long distance runners. Adding those last 2,000-meters makes a difference for Iowa cross country."
 
The Iowa men bounced back from a disappointing finish at the Big Ten Championships.
 
"We're a lot happier [with this finish]," Anderson said. "Finishing last in the Big Ten really left a sour taste in our mouth and finishing 11th is big because we were ranked 14th in the region even before Big Tens, so 11th place; we'll take it."
 
Anderson led the team for the third straight race, placing 44th. The senior from West Des Moines, Iowa, recorded a personal best 31:17.9 in his final race at Ashton Cross Country Course.
 
"It's bittersweet. I have put in a lot of work these past four years to get where I am," Anderson said. "It's pretty sad. I am going to miss this a lot. I do have track left, so we will take a few days off and refocus."
 
Sophomore Ian Eklin notched a personal best time of 31:33.6 to place 62nd. A number of Hawkeyes made their 10,000-meter debuts including freshman Nathan Mylenek (32:02), sophomore Bailey Hesse-Withbroe (32:15), and sophomore Daniel Gardarsson (33:17).
 
"I was really happy with the way the entire lineup competed," Hasenbank said. "Nathan Mylenek rebounded really well from the Big Tens. He is a true freshman, but went 32-flat today on a tough course against a lot of upperclassmen with a lot of seasoning at the 10K.
 
"The entire team came through 8,000-meters faster than they have all year. That told me they gave everything they had."
 
On the women's side, senior Tess Wilberding became the third runner since 2000 to lead Iowa in every race in a single season, joining Sarah Arens (2000) and teammate Madison Waymire (2015). Wilberding finished 51st with a season best time of 21:20.3.
 
"I was happy," Wilberding said. "Everyone either got a personal best or ran faster than they did at the Regional Preview. We started out our first 1,000-meters really fast. It was good to see we could hold onto that. It was definitely a different racing strategy for us."
 
Four other Hawkeye women ran to season-best times: sophomore Andrea Shine (21:47.6), Waymire (21:53.4), sophomore Lauren Opatrny (21:56.8), senior Kelly Breen (22:08.9), and junior Marta Bote Gonzalez (22:26.5).
 
The Hawkeyes now turn their focus to the indoor track season. The team debuts its new track on Saturday, Dec. 3, with the Black & Gold Intrasquad.