Hawkeye Fan Shop — A Black & Gold Store | 24 Hawkeyes to Watch 2016-17 | KinnickEdge.org | Honorary Captain: Bryan Bulaga | Honorary Captain: Marvin Lampkin | Honorary Captain: Dave Haight | Honorary Captain: Dan McCarney | Honorary Captain: Mitch King
By DARREN MILLER
hawkeyesports.com
IOWA CITY, Iowa — The University of Iowa football team is an underdog for Saturday's Big Ten Conference game against No. 2 Michigan.
 
Derreck Robinson, the honorary captain for the Hawkeyes, remembers a similar situation during his senior season. Iowa was hosting a one-loss Wisconsin team Nov. 20, 2004, and few thought the Hawkeyes had the upper hand.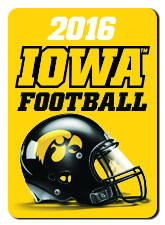 "We were considered the weaker team," Robinson recalled Friday after addressing the current Hawkeyes in the Stew and LeNore Hansen Football Performance Center.
 
In what became a highlight of his career, Robinson finished with six tackles, a forced fumble, and a quarterback hurry — the Hawkeyes won, 30-7.
 
"Just like (Saturday's) Michigan game," Robinson said. "They thought coach (Kirk) Ferentz couldn't do it and we did it — we whooped them pretty bad. That was one of my favorite times. When you're an underdog and you whoop that team, it makes you feel good."
 
Robinson, a native of Minneapolis, enrolled at the UI in 2000 and played from 2001-04. During that time, the Hawkeyes were 38-12 and won Alamo, Outback, and Capital One bowls.
 
Ferentz called Robinson an outstanding leader and dynamic teammate.
 
"He had ups and downs like most players during his career," Ferentz said. "He had trials, tribulations, good moments, bad moments, but he hung in there and developed into an outstanding football player."
 
Robinson was not drafted, but the 6-foot-4, 295-pound defensive end signed with San Diego as a free agent in 2005. He also played for Miami and Cleveland before retiring in 2011.
 
"Of course I was upset, I wanted to get drafted," Robinson said. "But I talked to coach Ferentz as soon as I got picked up. He called me and told me to pull my sleeves up and go to work. That's how he has been with me since I have been here."
 
Robinson completed his Hawkeye career with 76 tackles, 16 tackles for loss, and four sacks.  He forced two fumbles and recovered two fumbles.
 
"Coming from a program like Iowa, it gave me the will and toughness I needed," Robinson said. "It gave me everything I needed to make a team and play in the NFL. The toughness, hard work, and coming from here, you learn about leadership and you need that everywhere."
 
During his playing days, Robinson was not immune to an internal reprimand now and then.  
 
"I did make some bad decisions," Robinson said. "You are a fool if you continue to make the same mistakes and that's like on the football field. If you continue to make the same mistakes you will look like a fool on the field. If you continue to make the same mistakes outside football you will look like a fool — losing your focus will enable that."
 
Robinson played for the Chargers in 2005 and 2006 and he currently lives in San Diego and works in real estate.
 
"It has helped me transition from football to real life," he said.
 
Robinson will accompany the Iowa captains to the center of the field for Saturday night's pregame coin toss.  He will also be with the Hawkeyes in the locker room before and after the game.
 
Kickoff for the Iowa-Michigan game is set for 7:15 p.m. (CT).