Hawkeye Fan Shop — A Black & Gold Store | 24 Hawkeyes to Watch 2016-17 | Hawkeyes in the NFL | Hawk Talk Monthly — Nov. 2016 | Akrum Wadley sidebar | Jaleel Johnson sidebar | Iowa-Michigan Game recap | Video — Sunday Conversation
By DARREN MILLER
hawkeyesports.com
 
IOWA CITY, Iowa — A week after successfully turning the page following a loss at Penn State, the University of Iowa football team will try to turn the page following a 14-13 victory over No. 2 Michigan on Nov. 12.
 
The bowl-eligible Hawkeyes (6-4 overall, 4-3 Big Ten) overcame a 10-0 deficit to knock off Michigan when UI freshman Keith Duncan's 33-yard field goal split the uprights as time expired.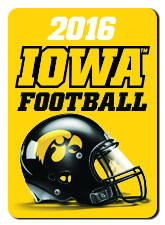 "That is just the opposite from a week ago," UI head coach Kirk Ferentz said Sunday in an exclusive interview with hawkeyesports.com. "We were all feeling badly (Nov. 5) on the trip home (from Penn State) and probably worse on (Nov. 6) because you have time to think about it and you have to live with it.
 
"One of the strong encouragements we try to give our guys is no matter what happens, you have to move on to the next chapter. The challenge last Monday morning was getting to work on Michigan; if we didn't get our attention on them quickly it could get even worse. Now instead of everybody telling them they're bums, everybody is going to be talking about the Michigan game and how electric it was and all those great things. That's all true, but if we're not looking at Illinois and getting ready for them, we open the door again for a result you don't want. The trick is to flip the page and focus on what we have to get done this week which is a list that is substantial."
 
Duncan was 2-for-2 on field goal attempts against Michigan, two weeks after missing wide right on a 38-yarder against Wisconsin.
 
"One thing you feel best about is when you get to see players day-in and day-out and the way they operate," Ferentz said. "Keith had a very disappointing field goal against Wisconsin. All players go through those ups and downs and that was a disappointing thing for him. He bounced back from that, practiced well after that and has ever since. All of us were confident he would go in there and deliver."
 
Duncan's second made field goal against the Wolverines brought many of the 70,585 fans onto the playing field to celebrate with the Hawkeyes.
 
"Night games are always special and the environment was unbelievable from the start of the game until the very end," Ferentz said. "It was great to have (the fans) down there, that energy was a nice reward for our players after fighting hard for 60 minutes."
 
Aside from Duncan's game-winner, a monumental play for Iowa came with 6:31 left in the second quarter when senior defensive tackle Jaleel Johnson stuffed Michigan's De'Veon Smith for a 2-yard loss and a safety.
 "One of the strong encouragements we try to give our guys is no matter what happens, you have to move on to the next chapter." — Kirk Ferentz
"A great effort there and it got the fans even more into the game," Ferentz said. "It was a fantastic play and it seemed to break the ice for us."
 
On Iowa's final scoring drive, Ferentz said the goal was to get into a good, makeable position and he liked where the ball ended up. He said offensive coordinator Greg Davis called the quarterback draw that C.J. Beathard took to the Wolverine 15.
 
The Hawkeyes are bowl eligible for the 15th time in the last 16 seasons.  
 
"We try not to take anything for granted, so to earn a bowl bid is significant, not everybody does it," Ferentz said. "We can all do the math: We still have two games left so six (wins) plus two would be eight, and that is something we can all strive for. But we're not going to get there if we don't get to seven first. After we talk about the big picture a little bit, then we get right back to the task at hand and starting Monday morning. We have to do all we can to beat Illinois."
 
The Fighting Illini, under first-year head coach Lovie Smith, are 3-7 overall, 2-5 in the Big Ten. Illinois defeated Michigan State, 31-27, in its most recent home game. Kickoff is set for 11 a.m. (CT).
 
"We have some guys hurt and we have limitations and we're short-handed in some ways," Ferentz said. "It took every bit of effort and concentration to win this past week and we have to anticipate it is going to be the same this week; we can't let last week be a distraction. We have to focus on getting ourselves ready and then matching up against Illinois."