IOWA CITY, Iowa – The Iowa Hawkeyes received key play from both veterans and young players in a 28-0 win at Illinois Saturday, improving their record to 7-4 on the season.  Offense, defense and special teams all contributed as the Hawkeyes posted their first Big Ten shutout since 2009.
The Hawkeyes, now 5-3 in Big Ten play, close the season Friday with the annual Hy-Vee Heroes Game, hosting Nebraska (9-2) in a 2:30 p.m. contest that will be televised by ABC.  Iowa will try to secure its third trophy game victory of the year.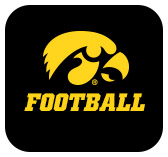 "Anytime you get a shutout it is worth noting," said Iowa head coach Kirk Ferentz.  "That is a total team effort.  The entire group played well, including the guys who were filling in for some of the injured guys."
Cold and windy conditions played a key role; especially in the first half as both teams felt their way through the first quarter.  Following a key defensive stop, senior wide receiver Riley McCarron put the Hawkeyes on the board with a 55-yard punt return for a touchdown, and the Hawkeyes led 7-0 at intermission.
"I thought Illinois handled the conditions a little better than we did at the start," said Ferentz.  "As we got going we looked like a good football team.  As far as the conditions, we haven't practice in wind all season; we haven't practiced in cold weather, so those two things really factored in at the beginning of the game.  You have to give the defense a lot of credit; it helped carry us through some uneven play early offensively.  The guys got acclimated and played better as the game moved on.
"The punt return by Riley was a big play.  "He did a nice job, and Desmond (King) as the other returner came over and got good blocks on each of Riley's returns.  I saw a lot of good effort that way from the special teams, which led to some big plays. Ron (Coluzzi) had two good punts, one into the wind especially right before the half that got us out of a hole."
For the day, the Iowa offense posted 262 net rushing yards, and the Hawkeye defense allowed just 61 net rushing yards and 198 yards total offense.  Iowa's special teams scored on a punt return for the first points of the game, and came up with a fumble recovery in the fourth quarter that led to Iowa's final touchdown.
In an unusual twist, Iowa started both the first and third quarters on defense.  Iowa's defense began the third period with a three-and-out, while the offense took advantage and followed with a 12-play, 77-yard touchdown drive to increase the advantage to 14-0.  LeShun Daniels rushed for 159 yards and two touchdowns, while Akrum Wadley added 82 yards and one score.
"LeShun and Akrum did a nice job, and the offensive line played well," said Ferentz.  "Getting that seven points early in the second half was good for everybody; it really loosened things up a little bit, and then special teams continued to make big plays.  Two weeks in a row now we have played good football in the second half.
"Akrum was recognized last week, he received a lot of attention, and rightfully so, he played really well; and, LeShun played really well in this one.  We have felt all season we have two really good running backs, they complement each other well.  They are both veteran players, valued players, who are helping us be successful offensively.  Need to tip the hat to both of those guys."
The Hawkeye defense forced Illinois to punt on its first 10 possessions as the Fighting Illini were kept off the scoreboard.  Linebacker Josey Jewell led the defense with 10 tackles, while fifth-year senior Anthony Gair added a career-high eight and true freshman Manny Rugamba added seven.  Rugamba also caused and recovered a fumble on special teams, and Desmond King added his second interception of the season.
"For us to play good football, certainly good defense, our veteran guys have to do a good job, and guys like Josey and Desmond have played well all season long.  Both Manny and Anthony were called upon last week and did the job, and both came right back and played well at Illinois.
"On offense, Keegan Render was the next man in last week, and again this week," said Ferentz.  "Then Levi jumped in, played the entire game, he did a good job replacing Ike Boettger. Probably in August he never figured he would be in there.  As we talk about Akrum and LeShun doing a good job, that doesn't take place if the line doesn't do a good job.  That whole group did a good job."
Iowa now closes the regular season with a Friday afternoon home game against Nebraska (9-2), seeking to win its third trophy game of the season in four tries.
"It's amazing, the seasons do go quick, especially when you hit November," said Ferentz.  "We have talked about the entire month collectively, in that you have to take it week by week.  Both teams have known this will be a short week; at the end of the seasons it isn't that big a factor, it's more mental than physical.  Hopefully we have a great week of preparation; we are playing a ranked team that is an excellent football team.
"We are excited about the opportunity, it will be great to be back in Kinnick.  We know we have a big challenge on our hands on Friday, but we are looking forward to it.  It's a great week, we all have plenty to be thankful for."
The Hawkeyes (7-4, 5-3) are bowl eligible for the 15th time in the last 16 seasons.