Hawkeye Fan Shop — A Black & Gold Store | 24 Hawkeyes to Watch 2016-17 | KinnickEdge.org | VIDEO — Ferentz Senior Day
Editor's Note: The following first appeared in the University of Iowa's Hawk Talk Daily, an e-newsletter that offers a daily look at the Iowa Hawkeyes, delivered free each morning to thousands of fans of the Hawkeyes worldwide. To receive daily news from the Iowa Hawkeyes, sign up HERE.
By DARREN MILLER
hawkeyesports.com
IOWA CITY, Iowa — When Steve Ferentz runs from the southwest tunnel of Kinnick Stadium on Friday, it will mark the end of an incredible streak for the first family of University of Iowa football.
 
The Hawkeyes' regular season finale against Nebraska is the 18th Senior Day for Kirk Ferentz as Iowa's head coach. For 14 of those years, he has had a son on the team. For the third and final time, one of those three sons will be saluted pregame as a graduating senior.
 
Steve is a fifth-year Hawkeye offensive lineman. His position coach is oldest brother Brian, a UI alumnus who went through his Senior Day in 2005 when Iowa thumped Minnesota, 52-28. Another Ferentz, James, was a three-year starter from 2010-12. His Senior Day ended with a 13-7 loss to Nebraska.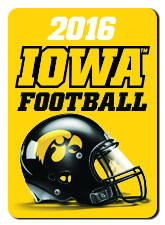 "It is a day you never forget," Kirk said. "I remember my last game as a high school player (at Upper St. Clair in Pittsburgh), but then you get to go on to college. I remember like it was yesterday, my last game as a college player (for Connecticut) was at Holy Cross University — it was in November (of 1976) — I remember not wanting to take the uniform off and the ride home. It's true for most athletes: you remember your final chance to compete in whatever sport it may be."
 
The Patriarch's Path to the University of Iowa
Kirk joined Hayden Fry's staff at Iowa in 1981 as offensive line coach and continued through the 1989 season. On Dec. 2, 1998 — after stops at Maine and Cleveland/Baltimore in the NFL — Ferentz was hired as Iowa's 26th head football coach, replacing Fry.
 
Brian was with the program from 2001-05, lettering his final three seasons; James was at Iowa from 2008-12, lettering from 2010-12; Steve has been here since 2012 and earned his first letter in 2015.
 
Combined, the seasons 2001-16 add up to 14 with a Ferentz playing for their father (James and Steve were teammates in 2012).
 
"That is something you never count on, plan, or think about," Kirk said. "It worked out and isn't something you can put a price tag on. You don't expect that or hope it could happen, it just happened.
 
"We have had a lot of good memories and moments together throughout the years. It's fun to watch your kids participate in anything, then when you get to be a little closer to them than the average situation, it is a pretty good deal."
 
Ferentz is the only person in Division I football to coach three sons, but that wasn't the family's plan. Kirk's wife, Mary, said there was an effort not to groom their boys for the gridiron simply because their father coached.
 
"Brian was barely walking in diapers and people would say, 'Oh, you're going to play for your dad someday,'" Mary said. "We would cringe and say 'Don't say that because these kids are under enormous pressure.' What if they don't like football? What if they love football and don't have the talent to play at the level their old man coaches at? We didn't want them to feel those were our expectations or that was something they had to do to get their dad's attention or affection. We tried to downplay it and make sure they were doing it for the right reasons. Like any family, it's your normal and you osmose what the family business is, be it sports, football, medicine, academics.
 
"Our boys were fortunate they had the God-given ability to compete and they loved the sport. We tried very hard to make sure they were exposed to a lot of different things and never felt this was what was expected, even though a lot of people expected it of them."
 
Brian and James were offensive linemen and accomplished wrestlers at City High School in Iowa City. Steve played several positions in high school football, except offensive line. Basketball was his original sport of choice in the winter.
"What if they don't like football? What if they love football and don't have the talent to play at the level their old man coaches at? We didn't want them to feel those were our expectations or that was something they had to do to get their dad's attention or affection." — Mary Ferentz 
"I thought he would be the next Dennis Rodman," Kirk said. "He was a defensive guy on the basketball court."
 
But while Steve was shutting down opposing junior high basketball players, James was pinning his way to the heavyweight final at the 2008 Class 3A Iowa State Tournament.
 
"That was it for Steve," Mary said. "He converted to wrestling." (Steve qualified for the state wrestling tournament as a senior, winning a first-round match).
 
So the Ferentz's had three football players/wrestlers, but only Brian and James were in the middle of the offensive line at center — at first. Steve began his career as a quarterback, then moved to tight end and linebacker.
 
"Both his older brothers advised him at an early age, 'Whatever you do Steve, don't let them make you a lineman,'" Kirk said.
 
He did not heed the warning. Steve walked onto the Iowa team in 2012 as a tight end, but he will walk out on Senior Day as a 6-foot-2, 282-pound center. Yes, center.
 
"I came in as a tight end, 225 pounds at high school graduation, and then genetics got me," Steve said. "I'm not very tall, I can't run, I can't jump, so I moved inside to center. I guess I get to touch the ball more, so I'm alright with it."
 
Not only was Steve OK with a move to the offensive line (on the depth chart for Nebraska he is listed as a second-string guard), he was also OK with following the path of by his older brothers.
 
Brian, 33, was honorable-mention All-Big Ten in 2005 and signed NFL contracts with the Falcons and Saints. He is in his fifth season as offensive line coach for the Hawkeyes. James, 27, was second-team All-Big Ten in 2012 and is in his third season in the NFL and second with the Denver Broncos. He was a member of the Broncos' Super Bowl championship team last season.
 
"I looked up to (Brian and James) for guidance and following in their footsteps would be ideal for me," Steve said. "There was no pressure to play as well as them. For me, it was give it everything I've got and be my own player."
 
Sisters Play Supportive Role in a Football Family
The part played by female siblings Kelly and Joanne is not lost within the Ferentz family. Joanne graduated from the University of Iowa with an elementary education degree and is a teacher in Cedar Rapids. Kelly earned an undergraduate degree in English from the University of Michigan.
 
"Couldn't get into Iowa," joked Kirk. He was kidding, of course.
 
"But she did come back and do post-graduate work here," Mary added.
 
Kelly earned a juris doctorate and a master's degree in health administration from Iowa. She resides in Des Moines.
 
Steve, a secondary education major, admires Joanne and looks to her as a resource. He says Kelly is one of the smartest people he knows.
 "That is how it is with your siblings in general. We support each other in everything we do. Their joys are our joys, whether it be football or anything else in their life. Their losses are hard on us, too. We share the emotions, win or lose, in anything they do, not just football." — Joanne (Ferentz) Barnes
The Ferentz family isn't immune to sibling rivalry. According to Brian, Kelly pushed him to reach his best grade in high school. The family just moved to Iowa City from Baltimore and Brian was placed into John Raffensberger's ninth-grade American history class that also included his younger sister.
 
"Kelly was my main competition," Brian said. "I crushed that class because Kelly was in it with me and she was not going to get a better grade than me."
 
Even though Steve is nine years younger than Kelly, he also participated in sibling shenanigans.
 
"My dad and mom were supportive (of my choice to attend Michigan), my brothers didn't like it so much," Kelly said. "I remember the first time I came back and Steve was a little kid. I found all my Michigan T-shirts in the pool and a nice note under my door that said 'Michigan Sucks.'"
 
Kelly and Joanne understand the long hours coaches put in to be successful. They see sacrifices and know why losses sting.
 
"Their support means the world to my dad and brothers," James said. "It is not taken for granted."
 
Kelly and Joanne used to babysit Steve. Friday will be an emotional day for them, too.
 
"Steve has been the most fun to watch because he is the baby," Kelly said. "Watching him grow up and come out of his shell, you start having more of a friendship with him. He's a good kid."
 
"Growing up, we used to sit in the stands together and then progressively as our brothers have played for the team, it is one less family member in the stands," Joanne said. "We feel proud of our brothers and we're excited for them.
 
"That is how it is with your siblings in general. We support each other in everything we do. Their joys are our joys, whether it be football or anything else in their life. Their losses are hard on us, too. We share the emotions, win or lose, in anything they do, not just football."
 
The four oldest Ferentz children are married and only James lives outside Iowa. July is wedding month for the Ferentz's, far removed from football recruiting, camp, or the competitive season.
 
Why July?
 
"If you want your dad to walk you down the aisle and you want your brothers to attend," Kelly said. "Dad is working (during football season), we know better."
 
The Final Ferentz
Steve, who turns 23 on Dec. 4, is the only Ferentz son who was not on athletic scholarship. In a way, that makes his story more impactful. Brian coached James one season and Steve five. He suggests that Steve has surpassed the careers of the other Ferentz boys.
 
"Senior Day is great and the guys who will get the loudest cheers are the ones who have played the most," Brian said. "When you're a good player you should get recognition. But there are guys who will go out there on Senior Day like Steven who has had a long, hard road and hasn't gotten recognition. To go through the things he has on a daily basis and make the sacrifices to do the things he has done — I respect anybody that does that."
"My dad giving me the opportunity to play here meant a lot to me as an 18-year old and it still does to this day. It is something I will always be thankful for."  — Steve Ferentz
James called it a blast watching Steve develop into an offensive lineman.
 
"Every year he got better," James said. "He kept improving and working. He was never able to become a starter, but he embraced his role and to me that is just as special. Steve is somebody who embodied what it means to be an Iowa football player: finding a way to contribute somehow, some way."
 
Previous Senior Days
Many would be surprised that Brian's Senior Day in 2005 was the first time Mary was on the field inside Kinnick Stadium.
 
"It's kind of magical down there," she said. "There is an electricity that I had never felt before."
 
Even when a son isn't involved in Senior Day, Mary said the coach's wives are "bawling in the stands."
 
"Senior Days are always hard on coaches every year and when you have one of your own kids involved it's amplified," Kirk said.
 
Brian felt fulfilled and sad Nov. 19, 2005.
 
"I cried the first time I ran out in the swarm and again the last time I ran out on the field," he said. "It's a culmination of your career and lifelong dream, but you will never get to do it again."
 
Emotions didn't hit James until he was introduced Nov. 23, 2012.
 
"I remember going through warmups and Brian was pretty emotional," recalls James. "He said, 'I'm proud of you.' I said, 'Yeah, but we have to go win the game.' It didn't hit me until I ran out for the last time and then you're overtaken with emotion."
 
It's Steve's Turn at Midfield
Steve didn't wait until Senior Day to shed a tear. He already did while swarming with teammates before a 14-13 victory over No. 2 Michigan on Nov. 12.
 
"That was my last true swarm before a (home) game because you come out as an individual for Senior Day," Steve said. "I teared up a little bit in that swarm because it is such an emotional thing."
 
Steve is one of 11 Hawkeyes who can say they were on the field for Keith Duncan's game-winning 33-yard field goal that sunk the Wolverines as time expired. He will return to that same field once more as a student-athlete.
 
"It will be pretty emotional for me considering the opportunity my parents have given me my entire life," Steve said. "Then my dad giving me the opportunity to play here meant a lot to me as an 18-year old and it still does to this day. It is something I will always be thankful for."
 
Leave it to Mary to provide a "mother knows best" perspective.
 
"I try not to think about it and put too much significance on it with Steve," she said. "It's another step in his journey; it's another big step and he will have many more."