Hawk Talk Monthly — Dec. 2016 | Outback Bowl Tickets | Outback Bowl Merchandise | Outback Bowl Tours | Outback Bowl Information Page
 
IOWA CITY, Iowa — The University of Iowa has accepted an invitation to participate in the 2017 Outback Bowl in Tampa, Florida. The Outback Bowl is scheduled for noon (CT), on Monday, Jan. 2. The game will be televised by ABC from Raymond James Stadium (65,422). Twenty-first-ranked Iowa will meet 20th-ranked Florida (8-4) of the Southeastern Conference (SEC).
 
"We are excited and honored to be selected to participate in the 2017 Outback Bowl, said Gary Barta, director of athletics.  "Coach Kirk Ferentz, his entire staff, and our student-athletes closed the season with three impressive victories, and their hard work and commitment to the program has been rewarded.  With the end of season performances, our team certainly earned its way to this exciting bowl event.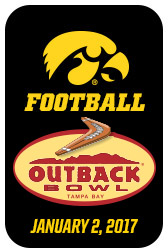 "Iowa football has a strong history with the Outback Bowl, and the city of Tampa, and we are excited to have Tampa as the destination for the loyal and supportive fans of our program.  Our passionate fan base always plays a part in our bowl selection and destination.  As always, we know we will face a very strong opponent from the Southeastern Conference and we are looking forward to another outstanding Outback Bowl experience."
The Hawkeyes are making their fifth appearance in the Outback Bowl, and their first appearance in Tampa since 2014. The Hawkeyes are 2-2 in previous Outback Bowl contests.  Iowa defeated Florida (37-17) in 2004, lost to Florida (31-24) in 2006, defeated South Carolina (31-10) in 2009, and lost to LSU (21-14) in 2014. Iowa has posted a 14-14-1 record in 29 previous bowl appearances.  The 2017 Outback Bowl also marks the 10th January bowl game for the Hawkeyes under Ferentz.
 
Iowa tied for second in the Big Ten Conference West Division with a record of 8-4, including 6-3 in Big Ten play. The Hawkeyes won their final three games of the season, including home wins over No. 3 Michigan (14-13) and No. 15 Nebraska (40-10).
 
This will be the fourth meeting between Iowa and Florida – third Outback Bowl meeting — with the Gators holding a 2-1 advantage. The Hawkeyes are 11-13 all-time against current teams in the SEC.
 
Iowa ranks third among Big Ten teams in bowl appearances and is bowl eligible for the 15th time under coach head Kirk Ferentz. Iowa has posted a 6-7 bowl record under Ferentz, including wins in four January bowl games. Since the 2001 season, only Ohio State has won more bowl games, or has a higher winning percentage in bowl games, than Iowa.
 
Fans interested in purchasing tickets to the game are encouraged to make their request through the UI Athletics Ticket Office.  Outback Bowl tickets can be purchased for $80 and can be ordered online at www.hawkeyesports.com/footballtickets.
Current I-Club annual contributors at the Champion Hawk, Kinnick Society, and Kinnick Society Gold level are eligible to purchase club tickets at $170 per seat.  There is a limit of 10 tickets for all orders.  If demand exceeds supply, orders will be filled based on customers priority points totals.
The priority points deadline is Friday, Dec. 9, at 4 p.m. CT. To guarantee your priority points apply towards your seating and ticket allocation, you must submit your request prior to the priority points deadline. Bowl tickets will be shipped via UPS.  The UI will require a street address for all ticket mailings, tickets will not be shipped to a PO Box address.
UI students will be able to order online at http://bit.ly/1hkTz5m, and signing into their student account.  There is not a student discount for Outback Bowl tickets, and student orders are also limited to 10 tickets per order.
In partnership with Winebrenner Red Carpet Travel and the University of Iowa Alumni Association, the official bowl tour will offer alumni and fans an outstanding bowl travel experience with packages to fit any budget. To sign up or for more information visit http://www.iowalum.com/athletictours.
For more information visit: Outbackbowl.com