Hawkeye Fan Shop — A Black & Gold Store | 24 Hawkeyes to Watch 2016-17 | KinnickEdge.org | Hawk Talk Monthly — Dec. 2016 | Outback Bowl Tickets | Outback Bowl Merchandise | Outback Bowl Tours | 2017 Outback Bowl Media Guide | Outback Bowl Information Page
Editor's Note: The following first appeared in the University of Iowa's Hawk Talk Daily, an e-newsletter that offers a daily look at the Iowa Hawkeyes, delivered free each morning to thousands of fans of the Hawkeyes worldwide. To receive daily news from the Iowa Hawkeyes, sign up HERE.
By RICK BROWN
hawkeyesports.com
IOWA CITY, Iowa — University of Iowa head football coach Hayden Fry hired Kirk Ferentz as his offensive line coach in the summer of 1981. In the first two games Ferentz coached in Kinnick Stadium that fall, Iowa upset No. 7 Nebraska and No. 6 UCLA.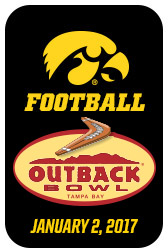 Fast forward to last month. The Hawkeyes finished the regular season by knocking off No. 2 Michigan and No. 15 Nebraska in back-to-back Kinnick Stadium games.  That marked just the third time since 1981 that Iowa has defeated ranked teams in back-to-back home games. It also happened in 1991 and 2003.
 
The Nov. 25 victory was also Iowa's first victory over Nebraska at home since Ferentz's debut.
 
"It's amazing," Ferentz said. "How many years is that, 35? I don't think I've got 35 more years of coaching in the bank, but that was a great way to start."
 
Last month's victories against Michigan and Nebraska, with a road shutout of Illinois in between, moved Ferentz three steps closer to a significant milestone.
 
Now 135-91 at Iowa, Ferentz needs just nine more victories to pass Fry (143-89-6) as Iowa's winningest coach. He can move a step closer with a victory over Florida in the Outback Bowl on Jan. 2.
 
Fry and Ferentz have coached a combined 38 seasons at Iowa, an incredible streak of longevity when you consider the other 13 Big Ten schools have averaged 6.6 coaches since Fry's first season in 1979.
 
Ferentz will be coaching his 14th different bowl team, in his 10th January bowl. That includes two Rose Bowls and an Orange Bowl. Fry also coached 14 bowl teams, including three Rose Bowls.
 
Iowa heads into the bowl game ranked 21st in The Associated Press poll and 25th in the Coaches' poll. This is the 10th different Ferentz team to be ranked during the season. Overall, his teams have been ranked for 95 weeks, spent 30 weeks in the top 10 and reached the top 10 in seven different seasons. Five Ferentz teams have finished the season in the top 10.
 
Fourteen of Fry's 20 teams were ranked during the season. His Hawkeyes spent 133 weeks in the top 25, including 39 weeks in the top 10. Eight of his teams reached the top 10. Twice his team finished in the top 10.
 
Fry had a 16-34-1 record at Iowa against ranked teams, with eight victories against the top 10. Ferentz is 22-38 against ranked opponents. The Michigan triumph was his seventh victory over a top 10 team.
And now 2016 will be remembered, along with 1981, 1991, and 2003, for its back-to-back success against rated teams. Here's a closer look at those first three seasons.
 
1981
 
Sept. 12 – Iowa 10, Nebraska 7
The seventh-ranked Cornhuskers were a 16-point favorite and had defeated Iowa the previous year in Lincoln, 57-0. Fry called this "the greatest victory in my life."
An Iowa defense led by Andre Tippett limited Nebraska to 150 yards rushing. The Hawkeyes took a 10-0 halftime lead on an Eddie Phillips touchdown run and a Lon Olejniczak field goal, and shut the Cornhuskers out until the fourth quarter. A photo in the Des Moines Sunday Register the next day showed Fry hugging assistant coaches Barry Alvarez and that rookie line coach named Ferentz.
 
Sept. 26 – Iowa 20, UCLA 7
Iowa's defense limited a high-powered UCLA offense to seven first downs, 35 yards rushing, and 121 yards of total offense.
 
"How sweet it is," Fry said after beating the No. 6 Bruins. "Our defense was great, and on offense we blocked harder and ran harder than at any time since I've been here."
 
1991
 
Oct. 19 – Iowa 24, Illinois 21
Illinois, ranked 13th in both The Associated Press and Coaches' polls, took a 21-17 halftime lead but got blanked the final two quarters.
 
"Our kids just played superhuman in the second half," Iowa defensive coordinator Bill Brashier said.
 
Iowa, ranked No. 15 by AP and No. 11 by the Coaches, scored the winning points on a 14-play, 69-yard drive. Quarterback Matt Rodgers covered the final yard with 2:39 remaining in the game.
 
Nov. 9 – Iowa 38, Indiana 21
Running back Mike Saunders scored three touchdowns in a span of 3:17 in the first quarter against an Indiana team ranked 25th by AP and 24th by the Coaches.
 
Saunders added a fourth touchdown run to tie a school record and the Hawkeyes (10th AP, 8th Coaches) handled Vaughn Dunbar, the nation's leading rusher.
 
2003
 
Sept. 20 – Iowa 21, Arizona State 2
Iowa (No. 18 AP, No. 14 Coaches) extended its regular-season winning streak to 13 games. The Sun Devils (16th in both polls) never figured out Iowa's defense. Linebackers Chad Greenway and Abdul Hodge combined for 33 tackles.
 
Oct. 4 – Iowa 30, Michigan 27
The Wolverines (No. 9 AP, No. 11 Coaches) got off to a fast start, taking a 14-0 lead. Iowa (No. 23 AP, No. 19 Coaches) cut the deficit to 20-17 at halftime and took the lead on two third-quarter field goals by Nate Kaeding. A 31-yard Nathan Chandler to Ramon Ochoa touchdown pass made it 30-20, but Michigan scored to make it a three-point game, and got the ball back one more time. But the Wolverines turned it over on downs at the Iowa 49.