Hawkeye Fan Shop — A Black & Gold Store | 24 Hawkeyes to Watch 2016-17 | Hawk Talk Monthly — Dec. 2016
By DARREN MILLER
hawkeyesports.com
IOWA CITY, Iowa — Ally Disterhoft is among the best 3-point shooters in University of Iowa women's basketball history. That's a good thing and it's paramount to the Hawkeyes' success.
 
Disterhoft entered the 2016-17 season with 116 3-point field goals. Not only that, but her shooting percentages from distance climbed every season, from 34 percent as a freshman, to 36.7 percent as a sophomore, to 41.3 percent as a junior.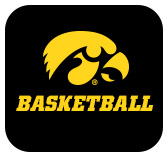 The first five games of Disterhoft's senior season were a different story.
 
She was 0-for-1 against Oral Roberts, 0-of-2 against Hampton, 0-of-1 against North Dakota, 1-of-3 against Massachusetts, and 0-of-2 against South Dakota State. Disterhoft missed her first seven 3-point attempts and was just 1-of-9 through five games.
 
Those were very un-Disterhoft-like numbers to say the least.
 
"Mental toughness is a lot of what it takes to have success in basketball," Disterhoft said. "It is trusting yourself and the work you have put in in the past — continuing to believe the next one is going in no matter if you have made 10 in a row or if you have missed 10 in a row."
 
Trust and a shooter's mentality have led to a reversal of fortune for Disterhoft. She was 1-of-2 from 3-point against UCLA and 3-of-4 against James Madison in the Cancun Challenge. Against top-ranked Notre Dame she sank 3-of-5. Against Northern Iowa on Sunday, Disterhoft made 6-of-7 field goals and all four from 3-point range.
 
"We knew she was capable of doing that," Iowa head coach Lisa Bluder said. "I'm glad she is doing it with confidence now. Having her being a multi-dimensional weapon is important to our program."
 
What started as a shooting cold spell is becoming one of the best seasons of Disterhoft's career. Since Nov. 24 she has made 11 of her 15 3-point attempts, or 73.3 percent. For the season she is now at 50 percent (12-of-24).
 
"My percentages would show that in the past few games especially," Disterhoft said. "I think I have been catching and shooting better. If the defense has been sagging off, I am going to take that 3. If we're circling and my teammates pitch it to me for the open shot, I am going to take that 3. It is taking shots in the rhythm of the offense and when you take those high-percentage shots, they are more likely to go down."
 
The rest of the Hawkeyes appear to be heating up along with their senior captain. After shooting 28.1 percent from distance through eight games, Iowa made 11-of-16 against Northern Iowa. Disterhoft was perfect on four attempts while Bre Cera, Chase Coley, and Kathleen Doyle were all 1-for-1.
 
"I didn't think (3-point shooting) would be a weakness for us and now we're making amends to that," Bluder said.
 
The Hawkeyes are back in action Wednesday, hosting Iowa State in the Iowa Corn Cy-Hawk Series. The home team has won the last nine games.
 
"It's a great rivalry and we're excited to host such a good school," Bluder said. "We're going to have to play very well to get the win. It's comforting that it's here, but we know that doesn't guarantee us anything. We almost got (the win) at their place last year and we know we aren't invincible on our home court."
 
Tip-off is set for 7 p.m. (CT). The game is billed as a "Blackout." All Hawkeye fans are encouraged to wear black; the first 1,000 will receive a free Blackout T-shirt.