Outback Bowl Tickets | Outback Bowl Central | Outback Bowl Merchandise | Outback Bowl Tours | 2017 Outback Bowl Media Guide
 
IOWA CITY, Iowa — University of Iowa senior running back LeShun Daniels, Jr., senior quarterback C.J. Beathard, and junior linebacker Josey Jewell were named Roy J. Carver Most Valuable Players for the 2016 Hawkeye football team that held its annual awards banquet Sunday. 
 
Five team captains for the 2016 season were announced; Beathard and Daniels on offense, Jewell and senior defensive back Desmond King on defense, and kicker Ron Coluzzi on special teams.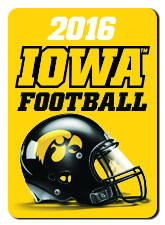 The Hayden Fry Award was shared by Beathard, Daniels, and senior wide receiver Riley McCarron on offense, and Jewell and King on defense.  The award goes to team members who show exemplary leadership and dedication throughout the year.
 
Jewell ranked second in the Big Ten in tackles and was named second team All-Big Ten for the second straight season.  The Decorah, Iowa, native has 114 tackles in 2016 and his career total of 291 ranks 18th-best at Iowa.
 
King, a native of Detroit, has earned first team All-America honors from several news outlets for the second straight year.  King had two interceptions and ranked among Big Ten and national leaders in both kickoff (27.2) and punt returns (9.8). He has 13 career interceptions to tie for fifth all-time.
 
Beathard, a native of Franklin, Tennessee, started all 12 games, completing 58.6 percent of his pass attempts for 1,874 yards and 17 touchdowns.  He ranks among Iowa's career leaders in nearly every passing statistic, and has posted a 21-6 record as Iowa's starting quarterback, best among those with 20 or more career starts.
 
Daniels enjoyed his best season while leading the Iowa rushing attack with 1,013 yards and 10 rushing touchdowns.  The native of Warren, Ohio, ranks 16th in career rushing yards (1,843) and has scored 116 career points.
 
Coluzzi joined the Iowa program for his final season as a graduate transfer and contributed immediately.  He averaged 41.3 yards per punt, with 13 punts of 50 yards or more.  He earned third team All-Big Ten honors with 22 punts inside the 20 and just five touchbacks.  Iowa opponents had just 10 returns.
 
McCarron joined the team as a walk-on and improved his production each season.  The Dubuque, Iowa, native led the team in receptions and yards (41-506).  He had four touchdown receptions and one score on a punt return at Illinois. 
 
The Players Choice Awards, selected by player vote, went to Beathard on offense and Jewell on defense.  Jewell and Daniels shared the Iron Hawk Award.
 
Senior offensive lineman Ryan Ward received the Forest Evashevski Scholastic Achievement Award, presented to a senior who has the highest scholastic record.  The native of Homer Glen, Illinois, has twice earned academic All-Big Ten recognition.
 
Coluzzi and King shared the specialist portion of the Reggie Roby Special Teams Award, while junior outside linebacker Kevin Ward was recognized for his overall special teams play. 
 
The Brett Greenwood Award was shared by McCarron and senior offensive lineman Cole Croston.  Croston (Sergeant Bluff, Iowa) earned third team All-Big Ten honors, despite missing most of the second half of the season due to injury.  McCarron, who contributed on both offense and special teams, was honorable mention All-Big Ten.  The Greenwood Award is presented to a walk-on who embodies the values and behaviors of former Hawkeye walk-on Brett Greenwood, a defensive back from Bettendorf, Iowa, who completed his playing career in 2010. 
 
Established in 2011, the Greenwood Award also honors former Hawkeyes who fit the description, one year at a time, for each season Kirk Ferentz has coached the Hawkeyes.  Three seniors from the 2004 Iowa team were recognized, including defensive back Sean Considine, defensive lineman Tyler Luebke, and offensive lineman Pete McMahon.
 
Daniels and junior offensive lineman Ike Boettger (Cedar Falls, Iowa) shared Comeback Player of the Year honors.  Daniels had the best season of his career, leading Iowa's rushing attack after battling different injuries in previous seasons.  Boettger started games at three positions, including both left and right tackle, and left guard.  The Cedar Falls, Iowa, native started 11 games and missed one contest because of injury.
 
Three Hawkeyes earned the Next Man In Award; sophomore offensive lineman Keegan Render (Indianola, Iowa), and junior tight end Peter Pekar (Greendale, Wisconsin) on offense, and freshman defensive back Manny Rugamba (Naperville, Illinois) on defense. 
 
Render moved to the starting offensive line unit due to injuries.  He started one contest at right guard before starting the final six games of the regular season at left guard.  Pekar saw the most extensive action of his career, starting four games as a second tight end while contributing to Iowa's success in the running attack.
 
Rugamba moved into the starting lineup for the final three games of his rookie season.  He tied for the team lead with two interceptions, with an interception and three pass break-ups in a key win over Michigan. 
 
Coaches Appreciation Award recipients included Ryan Ward, and senior lineman Steve Ferentz (Iowa City, Iowa) on offense, senior defensive back Greg Mabin (Fort Lauderdale, Florida) on defense, and junior fullback Drake Kulick (Muscatine, Iowa) and freshman kicker Keith Duncan (Weddington, N.C.) for special teams.
 
The Finish Strong Award, which was introduced in 2015, was presented to senior defensive back Anthony Gair (Plano, Texas) and senior defensive lineman Faith Ekakitie (Brampton, Ontario).  Gair played extensively over the final three games, all Iowa victories, while starting the final two contests.  Ekakitie had his best season on the defensive line and started three of the final four games.
 
Team Hustle Awards went to senior tight end George Kittle, junior running back Akrum Wadley and junior lineman Sean Welsh on offense, Johnson, junior safety Miles Taylor and sophomore end Parker Hesse on defense, and defensive back Jake Gervase and long snapper Tyler Kluver on special teams.
 
Kittle (Norman, Oklahoma) missed two full games and part of others due to injury, but still had 10 receptions for 296 yards and four touchdowns, including two scores in his final home game in the win over Nebraska.  Wadley (Newark, NJ) has rushed for 966 yards and has 32 receptions for 294 yards.  He has scored 13 touchdowns, including 10 rushing and three receiving.  Welsh (Springboro, Ohio) started all 11 games in which he saw action and earned second team All-America honors from USA Today.
 
Taylor, a native of Silver Spring, Maryland, started the first 10 games of the season before being injured and missing the final two games.  Taylor recorded 45 tackles.  Hesse, a native of Waukon, Iowa, started 11 games and missed one contest because of injury.  Hesse totaled 33 tackles, including 7.5 tackles for loss and 3.5 sacks.
 
Team Leader Awards were presented to redshirt freshman quarterback Drew Cook (Iowa City, Iowa), and freshman running back Toren Young (Madison, Wisconsin) on offense; sophomore linebacker Jacob Sobotka (Clearfield, Iowa), junior lineman Daniel Gaffey (Iowa City, Iowa) and freshman linebacker Nick Niemann (Sycamore, Illinois) on defense; and junior wide receiver Brandon Bishop (Sugar Grove, Illinois) and freshman linebacker Kyle Taylor (Silver Spring, Maryland) on special teams.
 
The Player Appreciation Award was presented to Deb and Ted Pacha of Iowa City.  The Pacha's have been generous contributors to the UI athletics department for over 40 years and are long time Kinnick Society members.  Ted has served as president of the National I-Club and Johnson County I-Club.  He is a UI Varsity Club honorary letterwinner and is a national I-Club Hawk of the Year honoree.  Ted founded Hawkeye Medical Supply in Iowa City, serving as president and owner for 25 years, and is currently president of Theo Resources, a consulting firm.
 
The Bump Elliott Appreciation Award was presented to Bob Rahfeldt and Chris Ruth.  Rahfeld and Ruth are director, and assistant director, respectively, of the Iowa football video department.
 The Distinguished Service Award was presented to Gerry Rundell.  Rundell has assisted with Iowa football sideline communications for the Hawkeye coaching staff since the late 1990's, working from both the sidelines and coaches booth in the press box and at all home and away games.
 
Here are the Award winners:
Forest Evashevski Scholastic Achievement:                            Ryan Ward
Iron Hawk Award:                                                                         LeShun Daniels, Jr.
                                                                                                          Josey Jewell
Reggie Roby Special Teams Award:                                           Ron Coluzzi, specialist
                                                                                                          Desmond King, specialist
                                                                                                          Kevin Ward, overall
Team Leader Award:                                                                     Drew Cook, offense
                                                                                                          Toren Young, offense
                                                                                                          Jacob Sobotka, defense
                                                                                                          Daniel Gaffey, defense
                                                                                                          Nick Niemann, defense
                                                                                                          Brandon Bishop, special teams
                                                                                                          Kyle Taylor, special teams
Players Choice Award:                                                                 C.J. Beathard, offense
                                                                                                          Josey Jewell, defense
Brett Greenwood Award:                                                              Cole Croston
                                                                                                          Riley McCarron
Former Players:                                                                             Sean Considine
                                                                                                          Tyler Luebke
                                                                                                          Pete McMahon
Comeback Player of the Year:                                                     Ike Boettger
                                                                                                          LeShun Daniels, Jr.
Coaches Appreciation Award:                                                    Steve Ferentz, offense
                                                                                                          Ryan Ward, offense
                                                                                                          Greg Mabin, defense
                                                                                                          Drake Kulick, special teams
                                                                                                          Keith Duncan, special teams
Finish Strong Award:                                                                    Faith Ekakitie
                                                                                                          Anthony Gair
Team Hustle Award:                                                                      George Kittle, offense
                                                                                                          Akrum Wadley, offense
                                                                                                          Sean Welsh, offense
                                                                                                          Parker Hesse, defense
                                                                                                          Jaleel Johnson, defense
                                                                                                          Miles Taylor, defense
                                                                                                          Jake Gervase, special teams
                                                                                                          Tyler Kluver, special teams
Next Man In Award:                                                                      Keegan Render, offense
                                                                                                          Peter Pekar, offense
                                                                                                          Manny Rugamba, defense
Hayden Fry Award:                                                                        C.J. Beathard, offense
                                                                                                          LeShun Daniels, Jr., offense
                                                                                                          Riley McCarron, offense
                                                                                                          Josey Jewell, defense
                                                                                                          Desmond King, defense
Most Valuable Player:                                                                  C.J. Beathard, offense
                                                                                                          LeShun Daniels, Jr., offense
                                                                                                          Josey Jewell, defense
Permanent Team Captains:                                                         C.J. Beathard, offense
                                                                                                          LeShun Daniels, Jr., offense
                                                                                                          Josey Jewell, defense
                                                                                                          Desmond King, defense
                                                                                                          Ron Coluzzi, special teams