KinnickEdge.org | Outback Bowl Central | Hawkeye Fan Shop — A Black & Gold Shop | 24 Hawkeyes to Watch | Photo Gallery
Editor's Note: The following first appeared in the University of Iowa's Hawk Talk Daily, an e-newsletter that offers a daily look at the Iowa Hawkeyes, delivered free each morning to thousands of fans of the Hawkeyes worldwide. To receive daily news from the Iowa Hawkeyes, sign up HERE.
By DARREN MILLER
hawkeyesports.com
 
IOWA CITY, Iowa — Holiday gifts come in all shapes, colors, and sizes. So do gift-givers.
 
Between 30-40 University of Iowa student-athletes from at least 14 sports attended a Multicultural Focus Group "Adopt-a-Family Wrapping Party" on Dec. 1 in the Gerdin Athletic Learning Center. The gift-wrapping event was a festive culmination for the organization that bought and donated gifts to a local family of five.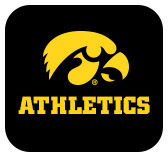 The adopted family includes a father, mother, and children ages 14, 10, and 2. The parents take turns working to be able to care for their family. While one parent works, the other watches their daughter. If their jobs call them out of the house on weekends or evenings, the oldest sibling assists with child care. Despite their financial challenges, the family volunteers their time and talents in community events.
 
Several Hawkeye student-athletes stepped to the plate to make sure the family enjoyed this particular holiday.
 
"We do a lot of volunteer work and giving back to the community, but to be able to do it during the holiday season where it is all about giving feels great," said Sheridan Champe of the women's track and field team. "That's what it's all about."
 
Champe, a junior sprinter from Amherst, Ohio, is a member of the Multicultural Focus Group Advisory Committee. Others include James Daniels (football), LeShun Daniels, Jr. (football), and Jahisha Thomas (women's track and field), who worked together to develop the idea to adopt a family this year.
 
"We came up with the idea because we wanted to do an end-of-year event that wasn't going to be too stressful and something we could do to help in the community," LeShun Daniels said. "With finals week coming up, we wanted to have something relaxed and this is what we came up with."
 
The student-athletes joyfully filed into a Gerdin Learning Center classroom that was temporarily transformed into Santa's workshop. There were seven rolls of wrapping paper, bows, boxes, and bags. And for a yuletide treat, the student-athlete elves enjoyed juice, cookies, and brownies.
 
The wishes for the Adopt-a-Family children included jackets, sweaters, snow boots, cooking toys, remote control car, board games, puzzles, stuffed animals, jewelry, and make-up. 
 
Among the gifts wrapped that evening were a Baja Extreme radio control car, the board game Chutes and Ladders, an Urban Ridez remote control car, clothing, the game Guesstures, a Make-a-Cake Mixer set, a plush throw, a 60-piece kitchen play set, and work books, compliments of the Daniels brothers.
 
Champe donated clothes and jackets. She said when she isn't surrounded by her family in Ohio for the holidays, she spends time in Iowa City with friends and people she cares about.
 
"This time of year is about doing things together and spending quality time together," Champe said. "I love going out and spending money, not on myself or friends, but on people that actually need things."
 
Iowa's Multicultural Focus Group teamed with the United Way of Johnson & Washington Counties to complete the Adopt-a-Family project. It is the first time it has been done by Hawkeye student-athletes, but Liz Tovar, associate athletics director for student-athlete academic services, hopes it becomes an annual occurrence.
 
"This has exceeded all of our expectations," Tovar said. "What I love about this event is that it is student-led, student-run and to look at the various sports teams that participated this year is fantastic. This is hopefully a tradition that will keep going in future years. What we want at the end of the day is for the family to be happy and to get all the things they want. It's a win-win, not just for us, but most importantly for the family."
 
In this season of hope, love, joy, and peace, it is through giving that Iowa's student-athletes truly received.