Hawkeye Fan Shop — A Black & Gold Store | 24 Hawkeyes to Watch 2016-17 | KinnickEdge.org | Hawk Talk Monthly — Dec. 2016 | Outback Bowl Tickets | Outback Bowl Central | Outback Bowl Merchandise | Outback Bowl Tours | 2017 Outback Bowl Media Guide | VIDEO — Iowa's Outback Bowl History | Photo Gallery: Hospital Visit | Coach Ferentz Transcript (PDF)
By DARREN MILLER
hawkeyesports.com
IOWA CITY, Iowa — The regular season resume for the University of Iowa football team includes three consecutive victories, two against nationally ranked opponents. But head coach Kirk Ferentz isn't content letting that stretch define the 2016 Hawkeyes.
 
"Our work's not done, we still have another big hill to climb in the next couple weeks," Ferentz said at a Thursday news conference in the Stew and LeNore Hansen Football Performance Center. "This football team has stayed with things, is determined, positive, and stayed together. They have pushed forward."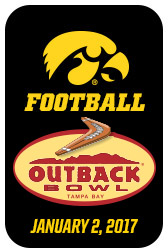 The No. 21 Hawkeyes take on No. 20 Florida in the Outback Bowl on Jan. 2 inside Raymond James Stadium in Tampa, Florida. It is the fourth straight January bowl game for the Hawkeyes and their 10th in 15 seasons.
 
Ferentz followed assistant coaches Chris Doyle, Reese Morgan, and Brian Ferentz to the podium during the first of two media opportunities before the team flies to the Sunshine State on Dec. 26.
 
With finals week coming to a close, Ferentz said the Hawkeyes will shift back into football mode Friday with an evening practice. It will begin the first of a three-part series leading up to the Outback Bowl.
 
"We will go through a phase where it's a little like preseason or spring practice where we're trying to hone our skills, get back into a groove, and try to get rhythm and tempo and get our fundamentals where they need to be," Ferentz said. "Then we'll go through a game week simulation and do the same thing once we get down (to Florida); we'll travel after that first game week simulation."
 
It has been six days since the Hawkeyes earned the Joe Moore Award for having the most outstanding offensive line in the country. Moore was Ferentz's head football coach as a senior at Upper St. Clair (Pennsylvania) High School; he said Moore talked Hayden Fry into hiring him at Iowa in 1981.
 
"It is the only award I'm aware of that honors a group and not an individual," Ferentz said. "When you talk about the offensive line, that's what it is all about. The quote from the release was that we don't have any real star power in the line, but it was the collective effort of the group that made it possible."
 
Ferentz has repeatedly stressed that aside from his father, Moore was the biggest mentor in his life. Then he couldn't resist tossing in a humorous tidbit from a conversation between he and Moore after he took the head job at Iowa.
 
"In 1999, one of the first pieces of advice he gave me was don't win too much too soon," Ferentz said. "Then he came out and watched spring practices and said, 'Don't worry about it. You're going to be OK on that front.'"
 
Iowa lost 18 of its first 20 games from 1999-2000.
 
Seven Hawkeyes will temporarily exchange helmets for mortarboard this weekend as they participate in commencement ceremonies. Ferentz said that by May, all 14 seniors will be college graduates.
 
"It's a reminder to all our players the value of setting goals, prioritizing their academics, and the value of the support they are fortunate to receive, whether it is on campus or from home," Ferentz said. "It takes that combination for people to have success. The lasting accomplishment any player will have when they come to college is getting their degree, whether they win the Outland Trophy, Doak Walker Award, or the Jim Thorpe Award."   
 
In personnel news, Ferentz said senior offensive lineman Cole Croston will practice Friday. Senior cornerback Greg Mabin and junior fullback Drake Kulick will miss the postseason because of fractures. The Hawkeyes will take a wait-and-see approach with freshman cornerback Manny Rugamba, but Ferentz said "we certainly can't count on him."
 
Ferentz and select players will meet the media Dec. 22.