Hawkeye Fan Shop — A Black & Gold Store | 24 Hawkeyes to Watch 2016-17 | Hawk Talk Monthly — Dec. 2016 | Game Notes (PDF)
By DARREN MILLER
hawkeyesports.com
IOWA CITY, Iowa — You can't get a more even series than Iowa-Drake women's basketball after 48 meetings.
 
Entering Sunday's contest at the Knapp Center in Des Moines, Iowa, the Hawkeyes have won 24 and the Bulldogs have won 24. And Game No. 49 could be as close as the last time the rivals met in Des Moines — a 100-98 victory by Iowa.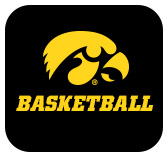 "We know it will be the toughest of the in-state series'," University of Iowa head coach Lisa Bluder said Friday at a news conference in Carver-Hawkeye Arena. "We're playing on their home court and it is always a battle over there. We know it's a tough place to play and I think this is one of the best teams (Drake head coach) Jennie (Baranczyk) has had since she's been there. We're going to have to have our A Game to come out of there with a win."
 
Iowa is 8-3 after consecutive victories over Northern Iowa, Iowa State, and Robert Morris. Drake is 5-3 and has won four of its last five games. Both teams played at North Dakota and against Iowa State. Iowa defeated North Dakota by 15 points and Drake defeated the Fighting Hawks by eight. Iowa defeated Iowa State at home by 12; Drake lost by eight in Ames.
 
It will be the first true road game for the Hawkeyes in 32 days.
 
"Their rims will be friendly to them, they're used to their court and environment, so we're going to have to get used to it," Iowa sophomore guard Tania Davis said. "We'll come prepared to run and gun and ready to defend the 3."
 
The Bulldogs have made 69 3-point field goals in eight games, two more than Iowa has made in 11 games. Five Drake players average double figures in points, led by senior Lizzy Wendell who nets 22 points a game. Wendell has scored 43 and 35 points in her last two games against Iowa.
 
"We expect we will get her best performance," Bluder said. "(Wendell) is one of those kids who has a knack for scoring and is hard to defend."
 
The Hawkeye players enjoyed two days off after defeating Robert Morris on Dec. 9. They practiced Monday and Tuesday, took Wednesday off, and will have three days to prepare for Drake.
 
"You can't put in a whole lot new because they are focusing their minds on their studies, which they should be," Bluder said. "It's more about keeping fine-tuned, keeping in shape, and working on your shot more than putting in a bunch of new wrinkles."
 
The all-time series between Iowa and Drake is tied, but the Hawkeyes have won 14 in a row.
 
Bluder spent 10 seasons as Drake's head coach (1990-2000); Baranczyk played for Bluder at Iowa from 2000-04, scoring 1,762 points.
Sunday's game tips off at 2 p.m. (CT).