Hawkeye Fan Shop — A Black & Gold Store | Hawkeyes in the NFL | 24 Hawkeyes to Watch | Hawk Talk Monthly — December
Editor's Note: The following first appeared in the University of Iowa's Hawk Talk Daily, an e-newsletter that offers a daily look at the Iowa Hawkeyes, delivered free each morning to thousands of fans of the Hawkeyes worldwide. To receive daily news from the Iowa Hawkeyes, sign up HERE.
By MATTHEW WEITZEL
hawkeyesports.com
IOWA CITY, Iowa — The University of Iowa defense played its best football the final three weeks of the regular season, helping the Hawkeyes win three consecutive games and earn an invitation to the 2017 Outback Bowl.
 
One of the areas of improvement in November was the defensive line. In games against No. 2 Michigan, Illinois, and Nebraska the Iowa defense yielded an average of 205 yards of total offense, including just 83 yards on the ground.
 
Two key cogs in the trenches have been tackles Jaleel Johnson and Faith Ekakatie.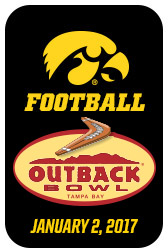 "Jaleel understands where he fits into the defense and has been playing better and better," said defensive line coach Reese Morgan. "He has probably played the best football of his career the second half of this season."
 
Johnson ranks fifth on the squad in tackles (54) and leads the team with eight sacks, while Ekakitie is has 37 tackles to rank 11th on the team. Ekakitie's play in last year's Big Ten Championship was a defining moment for Morgan in his development.
 
"Faith took on (Michigan State's) left tackle, who was an (NFL) first-round draft choice, and played him physical and put him on the ground," Morgan said. "It was one of those 'I think he's got it' moments. He's playing with a lot more confidence and having a lot of fun out there."
 
Iowa's three guys on the edge — Matt Nelson, Anthony Nelson, and Parker Hesse — have done a good job getting to the quarterback or disrupting plays in the backfield. They are going to need to continue their disruptive play at the Outback Bowl against Florida.
 
Anthony Nelson (six), Matt Nelson (five), and Hesse (four) have combined for 15 of Iowa's 25 sacks this season.
 
"Matt loves football," said Morgan. "Our last game against Nebraska might be the best game he has played. The details within the fundamentals are the things that he has improved upon.
 
"Anthony is a great athlete. He's getting so much better in the run game. He has great leverage and does a good job with his hands.
 
"Parker is a great competitor. He's tough, is detailed and very intelligent. He has a lot of pride."
 
The defensive line regularly rotates six guys and is in the process of generating depth with developmental work this past month in practice. Morgan said it would be nice to play eight and get more guys on the field but players have to earn it in practice first.
 
Morgan likes what he has seen out of underclassmen Cedrick Lattimore, Brady Reiff, Garret Jansen, and Sam Brinks in practice. Jake Hulett has been hurt most of the year and has not been able to practice much, but is expected back after the bowl game.
 
"You have to show us in practice that there is enough trust by your execution and production, and your knowledge of the defense, that you deserve the opportunity to play," Morgan said.
 
No. 21 Iowa and No. 17 Florida will kick off at noon (CT) on Jan. 2 at Raymond James Stadium in Tampa, Florida.