Hawkeye Fan Shop — A Black & Gold Store | 24 Hawkeyes to Watch 2016-17 | Hawk Talk Monthly — December
Editor's Note: The following first appeared in the University of Iowa's Hawk Talk Daily, an e-newsletter that offers a daily look at the Iowa Hawkeyes, delivered free each morning to thousands of fans of the Hawkeyes worldwide. To receive daily news from the Iowa Hawkeyes, sign up HERE.
By MADISON PETERSEN
hawkeyesports.com
IOWA CITY, Iowa — As the daughter of an Air Force officer, University of Iowa women's gymnast Lexi Mura moved frequently as a child.
 
She was born while her father was stationed abroad in Landstuhl, Germany, and moved twice by the time she was 4-years-old.  At age 4, her family moved to Baltimore, Maryland, where they resided for six years.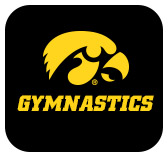 It was in Baltimore where Mura found her love for gymnastics. She started training at Docksiders Gymnastics at age 7. A few years later, her family was relocated to Belleville, Illinois.
 
"When I was young, it was hard to move and leave my friends, gym, and any nearby family," said Mura. "I would have to start over, go to a new school, and make new friends, but as I got older, I understood it more why we had to move around so much."
 
In Belleville, Mura started training at World Class Gymnastics — a place she continued training during her middle school and high school career.
 
"The coaches at World Class Gymnastics were great to train with," said Mura. "My parents worked a lot, so the coaches always took me everywhere and felt like family. It was an amazing experience."
 
As she matured, Mura's perspective on moving changed. It became less of a burden and more of an adventure.
 
"As I got older, I appreciated moving around more," she said. "It's kind of cool to live in new places growing up and finding new things about each place you live. I would do it again if I could.
 
"It was neat meeting new people and practicing with gymnasts from the east side of the country before coming to the Midwest. I have lifelong friendships with people all over the country as opposed to just being in one place my whole life."
 
Mura made the decision to attend to the University of Iowa in 2013. She was drawn by the beautiful campus and the balance of athletics and academics.
 
"The coaches and team were so nice," said Mura. "I knew this was where I belonged."
 
When she arrived at Iowa, Mura found comfort in knowing that this would be her home for four years.
 
"It's nice to know that I don't have to go anywhere or be ready for anything," said Mura. "When we lived in Maryland, my dad would come home and say we would have to move again, and I would have no idea where we were going. It's comforting to know that I don't have to worry about that during my four years at Iowa."
 
While Mura has been close with teammates and coaches at prior stops, the relationships at Iowa is different. It is home, and her team is her family.
 
"It makes me happy knowing that I have a home and family here," she said. "No matter what, I know they will always have my back and will be around if I ever need anything."