Hawkeye Fan Shop — A Black & Gold Store | 24 Hawkeyes to Watch 2016-17 | KinnickEdge.org | Hawk Talk Monthly — Dec. 2016 | Outback Bowl Tickets | Outback Bowl Central | Outback Bowl Merchandise | Outback Bowl Tours | 2017 Outback Bowl Media Guide | VIDEO — Iowa's Outback Bowl History | Photo Gallery: Hospital Visit
Editor's Note: The following first appeared in the University of Iowa's Hawk Talk Daily, an e-newsletter that offers a daily look at the Iowa Hawkeyes, delivered free each morning to thousands of fans of the Hawkeyes worldwide. To receive daily news from the Iowa Hawkeyes, sign up HERE.
By CHRIS BREWER
hawkeyesports.com
IOWA CITY, Iowa — When Chris Doyle accepted the strength and conditioning job at the University of Iowa 18 years ago, he was first presented a challenge by UI head coach Kirk Ferentz: Bring in the right people and develop them at a better rate than our opponents.
He was then presented a question by the Iowa Department of Motor Vehicles: How long are you going to be here?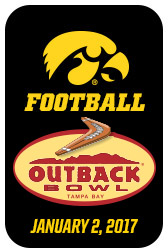 The Iowa job was Doyle's seventh in 10 years. That's not unusual in yesterday, today, and tomorrow's coaching landscape. You get one job, do it well, and move on to the next — ideally one that's higher up the ladder than the last. But that's not the norm at Iowa. In Iowa City, you get the job, do it well, and get back in line at the DMV.
"I went to the Department of Motor Vehicles my first year here in the spring of '99," Doyle said. "They said, 'Would you like to get a five-year or 10-year renewable license?' I kind of laughed and said, 'If history repeats itself, I won't be here in five years.' "Sure enough, I got my five-year renewable. The next time I thought a little better and said, 'I better get a 10.' I have that renewed now, too. I've been back to the DMV a few times since then."
Doyle has made a home in Iowa City. He and his wife Tia have raised three boys in this Big Ten college town, watching each go from kindergarten through high school in the same school district. That's rare in any athletic profession. Whether you're a coach or player, on the professional or amateur level, when you find a place that values you as much as you value it, you've found a mutual respect that can change your life. That's what the Doyles found at the University of Iowa.
"We are so blessed and grateful as a family," Doyle said. "Iowa City is a unique place. When you look at the academic opportunities, the high schools are absolutely outstanding; the healthcare, outstanding; the athletic opportunities, outstanding. "We just consider ourselves extremely grateful for every opportunity that our kids have had. We're lucky."
Luck may be the operative word, but as is often the case, Doyle created his own luck. He answered the challenge his boss presented him on Day 1, and he has answered it every day since.
"I've never met anybody more professionally inquisitive than him," Ferentz said. "He does his homework in all aspects of strength conditioning. He's right on the cutting edge and always has been. That expertise is something that we all value."
Doyle has helped create a unique culture of like-mindedness and open-mindedness. He and Ferentz understand the front door of the Hansen Football Performance Center is not being kicked in by a parade of high school All-Americans. The Iowa program is competing in its 10th January bowl game under Ferentz because it operates in unison with "a bunch of guys that are extremely passionate, tough-minded, hard-working individuals."
"What you need to know is that we really benefit from some of the best kids that have ever played college football," Doyle said. "When Dallas Clark comes walking in the door with his kids; (Robert) Gallery walks in the door with his kids; Abdul Hodge was (honorary) captain in November and he comes walking in with his kids. That's what it's all about. "We've benefited by getting some of the most high-character people to walk our hallways, put jerseys on, and wear the Tigerhawk. That's what has made this place a special place."
The old axiom is, it takes one to know one. Ferentz found the right person in Doyle. Doyle found the right person in Ferentz, and the right people inside the football program have the Hawkeyes competing in the postseason for the 14th time in 16 seasons.
"It's our 10th January bowl game," Doyle said. "That's significant for our football program and we're as excited as hell about going to Florida."
No. 21 Iowa faces No. 17 Florida on Jan. 2 at the 2017 Outback Bowl in Tampa, Florida. Kickoff is noon (CT) at Raymond James Stadium.